Chavez former closest loyalists call for his resignation
Wednesday, February 3rd 2010 - 12:23 UTC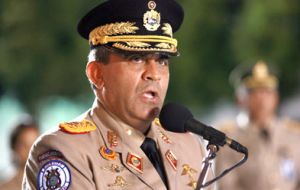 A group of one-time loyalists and close advisors of Venezuela's President Hugo Chavez called on him to resign saying that after eleven years in power he had lost "the legitimacy and capacity to govern".
"To keep the country from further ills, as are now taking place, we formally demand that you resign," the group, which called itself the Constitutional Axis, said in a statement published in local newspapers.
Signers included former foreign minister Luis Alfonso Davila; former defence minister Raul Isaias Baduel; one of the main drafters of the new Chavez-era constitution, Hermann Escarra; and two men who were at Chavez's side in a failed 1992 military coup bid, Yoel Acosta and Jesus Urdaneta.
The document took aim at what it called Chavez' "autocratic, totalitarian and self-centred way of governing" and to his "utterly careless use of language ... which lays bare a soul that is intolerant, petty, hateful and resentful."
Oil-rich Venezuela is suffering from proliferating problems including water and electric power shortages, insufficient food supplies, high crime rates and corruption, all of which signers argued just "added more elements to disqualify Chavez as a leader."
The group called for respect for private property rights and political pluralism, and charged that the military and other institutions were "distorted by the incursion of outside elements," a reference to communist Cuba, Chavez's closest regional ally.