Banco do Brasil buys 51% of Argentina's fourth largest private bank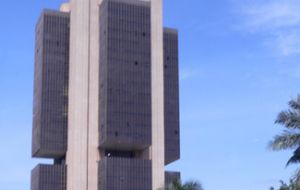 Brazilian government controlled Banco do Brasil will pay 480 million US dollars for a 51% stake in Banco Patagonia, Argentina's fourth largest private bank. The deal is pending regulatory approval both banks said in a release.
Banco do Brasil (BDORY) will pay 1.31 USD per share—for the 367 million shares sold by Banco Patagonia's (BPTGF) controllers, the Stuart Milne brothers. The payment will be made in several instalments and a public tender offer will be made to minority share holders at the same price.
The Stuart Milne brothers hold 61.6% of Banco Patagonia's outstanding shares and votes and after the transaction close the brothers and Banco do Brasil will form a shareholders' agreement to control 61.6% of the bank. They may also buy additional shares in the public tender offer, the Patagonia statement said.
Banco do Brasil first admitted in December that it was in talks with Patagonia, and the deal represents yet another step in the Brazilian bank's international expansion in Latin America and outside the region.
Banco do Brasil said the two banks are complementary as Banco Patagonia is a retail bank (small and medium sized businesses) with a presence in all of Argentines provinces and Banco do Brasil will bring its corporate banking expertise to Argentina.
Banco do Brasil objective with the acquisition is to increase financing to Brazilian companies operating in Argentina and also to Argentine companies, diversify Banco Patagonia's products and services and expand its loan portfolio, and also target micro and small-sized enterprises as well as payroll contracts and suppliers.
Banco Patagonia has 154 branches, 751,600 clients and 2.56 billion USD in total assets as of the end of last year. Banco do Brasil presence in Argentina consists of only one branch in capital Buenos Aires.
"The association with Banco Patagonia is part of the Bank of Brasil strategy to accompany the expansion of Brazilian corporations world wide with the purpose of servicing their needs", said Bank of Brasil in a brief release. The bank is also interested in expanding in the United States in support of Brazilian and Latinamerican immigrants.
Banco do Brasil has assets totalling 407 billion USD; 173 billion USD in loans and 287 billion USD in deposits.