Chavez' Venezuela "recalls us the times of our won dictatorship`"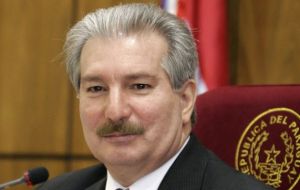 The incorporation of Venezuela to Mercosur faces a tough battle in the Paraguayan congress following statements' from the Upper House president who said that "it recalls us the time of the (Alfredo Stroessner) dictatorship" adding it was difficult to dissociate the country from the figure of Hugo Chavez.
"It is very difficult to dissociate Venezuela from Hugo Chavez. It makes us remember our own dictatorship: indefinite re-election, parental authority over children in the hands of the state, elections that are won with 90% of the vote. It all sounds too similar" said Senator Miguel Carrizosa during a major ceremony in Asunción to commemorate the 75 years of the end of the Chaco War when Paraguay defeated neighbouring Bolivia in a border areas dispute.
Senator Carrizosa also recalled that President Chavez ordered the closing of several media that questioned his government, and ordered the imprisonment of its owners.
"We still remember this happened in Paraguay with the newspaper ABC Color and with radio station Ñandutí".
Paraguay is the only Mercosur full member that has not taken a congressional vote on Venezuela's incorporation to the block. The administration of President Fernando Lugo was forced to withdraw the initiative last year from Congress because he lacked the sufficient votes for its approval.
Paraguayan Foreign Secretary Hector Lacognata who has been instructed to organize a round of contacts with congressional leaders to help find a way out has admitted that "political conditions in the Senate are not ready. If conditions change, we are open to dialogue. The Venezuela people should not be punished for this, but President Chavez style is to try and rule over everything surrounding him", he emphasized.
Senator Carrizosa added that "things are already difficult with Mercosur; we can't be left exposed to Chavez. It would be dangerous that Venezuela's Chavez becomes a full member of Mercosur".
Paraguay has been under intense pressure from Brazil and Argentina recently to force the incorporation vote for Venezuela, but President Lugo has long lost its majority in Congress.
Earlier this week President Lula da Silva's main foreign affairs advisor Marcos Aurelio García was in Asunción and bluntly talked about the issue, which somehow he linked to a recent agreement reached between Paraguay and Brazil regarding the sale of power and other promised investments, pending approval in the Brazilian congress.