Venezuela will be incorporating several "non-atomic" submarines
Tuesday, August 10th 2010 - 01:12 UTC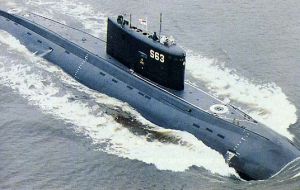 Very soon "we will have our submarines cruising" which will be "normal submarines", with no nuclear capacity at all, pointed out Venezuelan president Hugo Chavez, in anticipation of any criticisms "that could suggest such an option".
"We will be launching our own submersibles. They won't have atomic bombs, I'm saying so now, so they don't accuse of us of becoming nuclear", insisted the Venezuelan leader during his Sunday radio and television program "Aló Presidente".
"They are normal submarines, they have conventional weapons, radars and all the rest, and a great capacity", he added.
However he did not give any clue about the origin of the submarines.
Nevertheless it is believed they are Russian built, since their incorporation was begun to be talked about back in 2005.
Apparently they are three diesel-electric powered subs of the "Varshavianka" class, project 636 ('Kilo' according to NATO nomenclature), at a cost of over a billion US dollars of which 800 million were financed by Moscow.
The 'Kilo' class submersibles are third generation equipped with four 533 mm torpedo launchers and ten missile launchers from cruise Club-S.
These weapons could enable the subs to attack fixed or mobile submerged, coastal or sea surface targets under conditions of intense "radio-electronic" interference.
Currently the Venezuelan navy has two German built submarines U-209, launched in 1975 which were refurbished but are considered of "limited action" for the current scenario.