US economy grows faster than estimated in the third quarter: 2.5%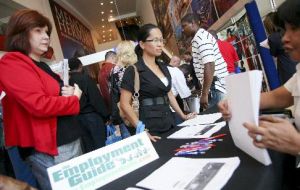 US economy grew faster than previously estimated in the third quarter, government data showed, but still not enough to address stubbornly high unemployment. GDP growth was revised up to an annualized rate of 2.5% from 2% as exports together with consumer and government spending were stronger than initially thought.
Economists had expected GDP growth to be revised up to a 2.4% pace. The economy expanded at a 1.7% rate in the second quarter, according to the latest data from the Department of Commerce.
There are signs activity picked up mildly as the fourth quarter started, but growth will likely remain below the 3.5% rate that economists say is needed to reduce a 9.6% unemployment rate.
The US government revised third-quarter growth to reflect sturdy consumer, government and business spending. Consumer spending, which accounts for more than two-thirds of US economic activity, grew at a 2.8% rate in the July-September period instead of 2.6%.
It was still the fastest pace since the fourth quarter of 2006 and was higher than the second quarter's 2.2% pace. Government spending increased at a 4% rate rather than 3.4%, due to an upward revision in state and local expenditures.
Business investment was a touch higher than initially estimated, lifted by much stronger spending on equipment and software, though structures were weak. Business spending increased at a 10.3% rate instead of 9.7%.
That was still a step down from the second quarter's brisk 17.2% rate. Spending on software and equipment grew at a 16.8% rate instead of 12.0%.
Revisions to third-quarter GDP growth also reflected import growth that was not as big as initially thought, while exports were a bit stronger. That created a trade deficit that sliced off 1.76 percentage points from GDP growth instead of 2.01 percentage points.
Investment in home building was a drag on growth, contracting at a 27.5% rate, a touch less than the 29.1% decline reported last month. The GDP report also showed after tax corporate profits rose 1% in the third quarter after growing 3.9% in the April-June period.
The report also showed no inflation pressures in the economy. The Fed's preferred inflation measure, the personal consumption expenditures price index, excluding food and energy, rose at an unrevised annual rate of 0.8%, which was the smallest increase since the fourth quarter of 2008 and the second-lowest reading since the fourth quarter of 1962.