Chilean wine industry booming: sales up 10% and exports 11.7%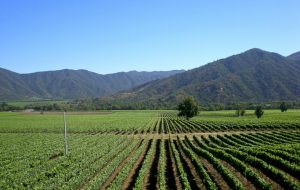 Between Jan and Oct 2010, 83 of the top 100 Chilean wineries increased their sales of bottled wine. According to figures from Wines of Chile, 68 of these wineries increased sales by more than 10%. Exports have increased by 11.7% compared to figures during the same period in 2009.
Among the 30 largest companies in the industry, Casa Lapostolle had the best performance, increasing shipments by 52.9%, for a total value of 10.9 million US dollars in the first 10 months of 2010.
Viña Carta Vieja revenues rose 39.9% and Montgras increased its revenues by 38.8%.
Although most of the vineyards showed increases in their sales, four companies in the top 30 had a drop in sales of more than 20%. These include Corpora Vineyards whose sales fell 34.2%, Viña Ventisquero with a drop of 25.6%, Via Wines with a fall in sales of 20.2%, and Palo Alto, which dropped 20%.
Although the dollar has fallen hard this year, Cono Sur's average price abroad rose by more than five percent.
"We have had a significant improvement in the mix of fine wines," a company representative told La Tercera.
According to the Wines of Chile "Strategic Plan 2020," wine exports will double by the end of the decade. Industry experts indicate that to achieve this goal, an additional 26,677 hectares of vineyards will be planted this decade, making wine production one of the principal uses of agricultural land in Chile.
Viña Sutil is one such vineyard that is planning to expand. Within the next two years, Viña Sutil will invest nearly US$5 million to plant 200 hectares in the valleys of Biobío, Cauquenes (Maule) and Limarí.
The expansion includes 100 hectares in Cauquenes for Merlot and Cabernet, 40 hectares for Sauvignon Blanc and Syrah in Limarí, and 60 more in Biobío for Sauvignon Blanc, Chardonnay and Pinot noir, and walnuts.
And Chile's wineries are looking even further east to ship export wines.
"Our wine exporters are watching with particular interest the development of the Asian markets, particularly China, where Hong Kong is the gateway", said Agriculture Minister José Antonio Galilea.
When Wine Spectator named its Top 100 wines of 2010, four Chilean wines made the prestigious list. They are Vineyards Concha y Toro, Veramonte, Polkura and Di Martino.
By Dominique Farrell – Santiago Times