Qatar set to have this year the highest per capita income in the world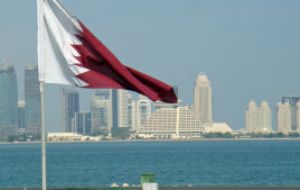 Qatar is set to become the country with the world's highest per capita income following on a breathless 16% growth in 2010 and a forecasted 20% this year according to the latest estimates from the IMF.
"Qatar has weathered the global financial crisis exceptionally well, reflecting the swift and strong policy response by the authorities" said the IMF report adding that "growth has rebounded to 16% in 2010 and is projected to accelerate to 20% in 2011".
The sizeable enhancement of liquefied natural gas (LNG) capacity, large government support to the banking system, and increase in public spending helped sustain high growth rates through the global crisis, the report added.
Based on this data the oil and gas rich emirate and its 900.000 inhabitants during 2011 will overtake in per capita income, Norway, another hydrocarbons exporter, and the EU financial hub of Luxembourg to become top of the list.
However according to a measure of comparative purchasing power Qatar's economy became the wealthiest in the world per capita last year, at 88,233 USD per person, surpassing Norway and Luxembourg.
The small Gulf monarchy, which beat out world football powers to be chosen as host of the 2022 World Cup late last year, will face a rising tide of inflationary pressure, though likely not more than it can manage, the IMF said. Remarkably, the 2010 surge was accompanied by a downturn in prices, rather than the inflation that normally accompanies such rapid expansion.
"Inflation is not viewed as an issue of concern in the short term, mainly because of the current excess supply in real estate" IMF said. However, it warned that inflation would pick up to 3% this year.
"Aggregate demand needs to be carefully monitored in order to avoid the emergence of inflationary pressures."
Oil and gas still account for more than 50% of GDP, roughly 85% of export earnings, and 70% of government revenues. Proved oil reserves of 15 billion barrels should enable continued output at current levels for 37 years. Qatar's proved reserves of natural gas exceed 25 trillion cubic meters, about 14% of the world total and third largest in the world.