US ready to help Chile solve human rights crimes but no apology for 1973 events
Tuesday, March 22nd 2011 - 08:23 UTC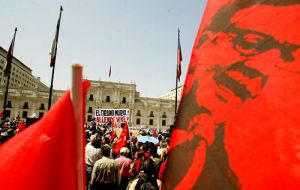 In what was the most controversial issue of the visit, President Obama said he's ready to help Chile solve human rights crimes committed during the dictatorship of Gen. Augusto Pinochet, but avoided agreeing Monday to a US apology for meddling in the country's affairs.
It was the first question at Obama joint news conference with Chilean President Sebastian Piñera. A Chilean reporter asked if Obama would share classified U.S. documents with Chilean judges investigating the deaths of former presidents Salvador Allende and Eduardo Frei Montalva as well as hundreds of other opponents of the dictatorship (1973/1990).
The reporter also asked Obama if he would apologize for the US campaign, led by the Central Intelligence Agency under orders from President Richard Nixon that destabilized Chile and encouraged the 1973 military coup that ousted Allende.
The entire centre-left coalition in Chile's lower house of Congress joined an open letter to Obama on Monday asking for the apology as well as co-operation in sharing uncensored versions of some 25,000 declassified U.S. documents on the 1973-90 dictatorship.
Chilean judges are still pursuing criminal investigations into nearly a third of the 3,065 deaths of leftists and other Pinochet opponents, including the two former presidents, whose deaths remain shrouded in mystery.
Obama said his government would consider any Chilean request, adding that the US wants to help as a matter of principle.
"I can't speak to all of the policies of the past. I can speak certainly to the policies of the present and the future," Obama added. "It's important for us to learn from our history, to understand our history, but not be trapped by it because we've got a lot of challenges now and, even more importantly, we have challenges in the future that we have to attend to."
The democratically elected Allende was witnessed committing suicide as troops closed in Sept. 11, 1973, but details of his death remain in dispute. Answers could implicate people who tortured and killed hundreds of allies of the Marxist leader.
US intelligence agents were closely monitoring the Chilean military at the time.
Frei Montalva, Allende's predecessor, was a leading Pinochet critic when he died in 1982 after hernia surgery in what many people consider mysterious circumstances.
Pinochet agents allegedly hung his body from a ladder, drained it of fluids and removed organs. Six people were charged last year in an alleged poisoning of Frei Montalva and a cover-up, but the judge in the case has failed to get formal support from the governments of Chile and the US for uncensored files and other evidence.
Frei's son Eduardo Frei Ruiz-Tagle, a former centre-left president who lost to Piñera last year, met briefly with Obama on Monday.
Pinera's government formally supported the Frei investigation this year after a leaked U.S. Embassy cable suggested the case would never be solved. He said Monday that he would support the Allende probe as well, if evidence of crimes surfaced. But he didn't commit to asking Obama to share classified information.
"We had a long and profound conversation with President Obama," Pinera said. "We didn't have much time to cover all of the issues of the future, so we didn't go so back into the past. But I can tell you that Chile, our government and this president believes, firmly believes, in the self-determination of peoples and firmly believes in the rule of law and respect for human rights."