Argentina asks Mercosur to draft an industrial policy and contain Asian imports
Wednesday, June 29th 2011 - 03:57 UTC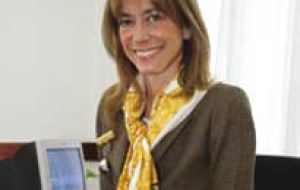 Mercosur Ministers of Industry meeting in Paraguay, ahead of the presidential summit, discussed on Tuesday different mechanisms to weaken the flood of 'cheap' manufactured goods from Southeast Asia.
Fernando Masi advisor to the Paraguayan Minister of Industry and Trade said the issue was brought up by Argentine Minister of Industry Debora Giorgi who suggested to her peers "to examine all links with that giant, which is China, and particularly the inflow of Chinese manufactured goods" to all Mercosur country members.
"Mercosur has few commerce defence elements regarding the invasion of Chinese products", said Masi who revealed that the issue will be in the short list of the group's agenda for the second half of the year when Uruguay will hold the chair.
In Buenos Aires before leaving for Asunción, Argentine Minister of Industry Debora Giorgi said that is was a matter of "discussing strategic items of the production sector, find balanced solutions for the block's asymmetries and also to think on joint strategies against disloyal competition from outside the zone".
"We must advance to an industrial Mercosur as a platform to substitute imports and add value to exports, plus creating a space for the implementation of commerce-defence measures to face the Southeast Asian avalanche", underlined Giorgi.
Masi said Argentina also proposed an industrial policy 'observatory' to understand the productive profile of each member country and help boost competitiveness.
Uruguay proposed a new productive integration through the development of renewable energies. Uruguay is pioneering in the region with wind energy and has plans to take the renewable component to 15% of power generation for the next decade.