Boudou: from liberal economics to running mate of President Cristina Fernández
Wednesday, June 29th 2011 - 06:23 UTC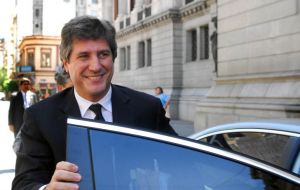 Three days after Economy Minister Amado Boudou was hand picked by Argentine President Cristina Fernández de Kirchner to be her running mate in the upcoming presidential elections, he took to Twitter to make his first public statements after the nomination.
"I am thankful that the president chose to trust me" he tweeted from Paraguay, where he's attending a Mercosur summit.
"I will keep working just like I've done until today in order to cope with such a huge responsibility," he explained, as he thanked his followers for all the support he received after the announcement.
"I've been away from Twitter these last few days, and being showered with so much love and congratulating messages feels incredible! I'm honoured by you!" the economist wrote on his account.
On Monday Boudou was seen inside the Economy Ministry's offices but chose not to talk to the press. He has been busy with meetings and rumour has it that his statements were being directed by the presidency since he is now fully focused on the re-election campaign of Cristina Fernandez.
For Boudou, 48, an economist who grew up in Buenos Aires and the seaside resort of Mar del Plata is has been a meteoric career. An orthodox in economy he embraced as a student and young graduate the liberal party Centre Union, UCD, which in Argentina is catalogued as 'conservative', almost 'reactionary'.
But at the time Boudou was more interested in music: he was the disk jockey at a famous Mar del Plata disco "Frisco Bay", collected guitars, motorbikes and after early marriage has remained single and has a reputation of womanizer. He is also known for his informality distant from all protocol, loves surf and is an admirer of the US, according to several Wikileaks from the US embassy in Buenos Aires.
Mrs. Kirchner pointed out three main qualities about Boudou, loyalty: he's not afraid of corporations, unions or lobbies and he was the first person (after her husband Nestor) following the world 2008 financial crisis to tell the president that "the capitalist rules of the game had changed".
Good at making friends he arrived in Buenos Aires at the giant Social Security Administration, Anses, in 1998, next to Ricardo Etchegaray who is currently Mr Taxman, head of the Revenue Office. Working for government as manager of one of the many departments he began making political contacts including former caretaker president Eduardo Duhalde and Sergio Massa a powerful leader in one of Buenos Aires counties.
Massa introduced him to the Kirchner circle and one of his first advices was to leave the Mini Cooper, "it's too ostentatious for Social Security workers". Finally in August 2009, and apparently in merit to his anticipation of "capitalism changes" in 2008, he is rewarded with the Ministry of Economy. He promised three targets: good relations with markets; straightening out Indec, the discredited statistics office and reaching an agreement with the Paris Club of sovereign creditors.
Before that and following the long confrontation with the farmers (July 2008), Boudou convinced Kirchner to nationalize the private social security funds and later suggested the creation of a "Bicentennial Fund" with Central Bank reserves to pay Argentina's sovereign debt. In the meantime he had central bank president Martin Perez Redrado, who opposed the initiative sacked; quite a turn around from his graduate studies at one of the most liberal economics schools in Argentina, CEME.
A brief recount of achievements show the Argentine economy is soaring, but so is inflation; money markets remain suspicious; the struggle with farmers is latent; Indec keeps releasing statistics which are not considered reliable; Paris Club discussions are stalled and appealing to central bank reserves to pay debts is highly questionable.
But all along step by step, proof on unbending loyalty towards the Kirchners and ultimately Cristina Fernandez, who then rewards him as Vice-president candidate in the ticket for next October presidential election. When the announcement Mrs Kirchner was praising loyalty and to every body's surprise including the minister, his name was released.
An interesting piece of information is that in his only attempt to run for political office, sponsored by Mrs Kirchner only a few weeks ago, the Buenos Aires city mayor primaries, he lost but two characters openly supported him: the head of organized labour Hugo Moyano and Hebe Bonafini, leader of the Mothers of Plaza de Mayo, currently in the middle of a major corruption scandal.
Finally according to his statement before the Anti Corruption Office, Boudou said he has assets totalling approximately 200.000 US dollars compared to 185.000 in 2008, which includes a flat in Buenos Aires, two motor bikes: Harley Davidson and BMW and two cars: an Audi A Quatro and a Honda Civic. He also mentioned a lot in Mar del Plata.