The Peronist and Kirchner fad reaches a set of different beer blends
Monday, November 7th 2011 - 05:45 UTC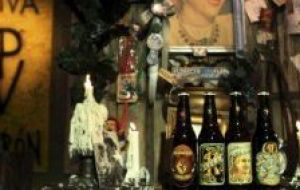 Peronist militancy in Argentina has now reached beer brands with the presentation of different names dear to followers of the country's main political force: "Evita", "17 de Octubre", "Montoneros" and "Doble K".
The brands were officially launched in the Buenos Aires restaurant "Peron, Peron" which is a temple for militants.
The "companion militant beer" was an idea of one of the restaurant's owners Daniel Narezo, following on the success of the wine "El Justicialista" from the plastic artist and winery heir Helmut Ditsch.
"For the moment the beer is only sold here at the restaurant, but we have had orders from collectors in Spain and Germany. I knew it was going to be an attractive product for the market" said Narezo in an interview published in Buenos Aires daily, Clarin.
"You have a 'double K' and you immediately become a Kirchner militant" claims Narezo.
The different brands respond to different flavours: "Evita" is a lager beer; "17 de Octubre" is a robust Black porter; "Montonera", pale ale with a touch of Patagonian fruits and the "double K" a really strong beer with 7% alcohol content.
The beer is sold by bottle or packs.
"Peron, Peron" is a very special restaurant in the Buenos Aires city posh neighbourhood of Palermo Hollywood and where dishes are related to Peronist motives and decoration includes an altar of Evita (Peron's first wife and icon of the Argentine workers movement); the "descamisados" or shirtless uniform from the main supporters of the movement in the forties and fifties, plus graffiti praising the Kirchner administrations and 8the typical drums (bombos) used by Peronist workers in popular demonstrations.
In a huge screen the most outstanding moments of the (sixty years) Peronist "religion" are aired and at midnight the "Marcha Peronista" (the movement's hymn) is turned on and usually strongly voiced by clients.
Several ministers and high post officials from the Kirchner administration are known to attend the restaurant regularly.