Nicaragua's Ortega condemned killing of Gaddafi and offered a prayer for Hussein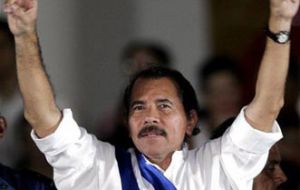 Nicaraguan President Daniel Ortega lashed out at Israel and condemned the killing of former Libyan dictator Muammar Qaddafi while being sworn into office this week alongside Iran and Venezuela presidents.
The former Sandinista rebel accused western nations of conspiring to keep nuclear technology from developing countries, saying that Iran has a right to develop its own program until Israel disarms.
"Christ never said, 'Arm yourself Israel'" Ortega said at an inauguration ration rally in Managua joined by Iranian President Mahmoud Ahmadinejad and Venezuelan President Hugo Chavez.
Ahmadinejad, who stood next to Ortega in front of thousands of supporters, visited Nicaragua as part of a several nations tour of Latin America, where he joined forces with Chavez allies at taking shots at the US.
Ortega, 66, also condemned the killing of Gaddafi and offered a prayer for Iraq's Saddam Hussein, who was sentenced to death after being captured by US troops.
Ahmadinejad who defended Iran's nuclear program when visiting Chavez in Caracas earlier this week called Ortega his "brother president" when he landed in Nicaragua.
Ortega was a Marxist rebel who took power in 1979, after toppling the US-backed dictator Anastasio Somoza. He was voted out of office in 1990 but returned to power in 2006 and in November was re-elected by a landslide after improving relations with business leaders in the Central American nation.
Nicaragua in spite of significant international aid remains one of the poorest countries in Latin America next to Haiti, Honduras and Bolivia.