Argentine truckers call for indefinite strike as soy bean crop was taking off
Tuesday, March 20th 2012 - 01:16 UTC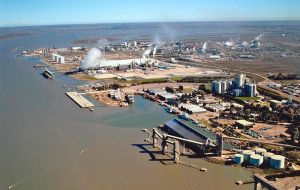 Argentina's truckers called Monday an indefinite strike to demand higher pay rates, parking their rigs in protest just as exporters were counting on them to haul freshly harvested soybeans to port.
Grains powerhouse Argentina is the world's No. 1 supplier of soy oil, a feedstock for the booming international bio-fuels sector, and is also a top soybean and corn exporter.
Most of country's crops are trucked from the Pampas farm belt to the export terminals and processing plants that dot Argentina's rivers. But shipping hubs such as Rosario and Bahia Blanca were free on Monday of the usual sound of industrial-sized rigs rumbling in with tons of soy, corn and wheat destined for Europe, Africa, the Middle East and China.
The FETRA group of trucking companies said the government has failed to ensure the implementation of a guaranteed minimum hauling tariff that was agreed to after a strike in October.
"The government has not kept any of its promises," FETRA said in a statement on Monday.
A spokeswoman for the organization said a meeting was set for late afternoon with the Transportation Ministry, but that the truckers were ready to dig in for an indefinite strike while negotiations develop.
A long work stoppage could have global market implications and dent Argentina's finances. Export taxes on soy and related products account for about 5% of state revenue.
Strikes in the country are watched by grains traders and bondholders alike. Cargill, Bunge, Molinos Rio de la Plata, Noble and Louis Dreyfus are among the grains exporters that operate in Argentina.
The government expects the 2011/12 soy harvest, which began this month, to come in at 43.5 million to 45 million tons. The season's corn crop, which started being collected last month, is forecast by the government at 21 million to 22 million tons.
Labour disruptions are common in Argentina, where high inflation, estimated by private economists at between 20 and 25% annually, has made wage and tariff negotiations increasingly tough in recent years.
The truckers' strike comes at a difficult time for farmers, who are recovering from a December-January drought that reduced crop yields, and for President Cristina Fernandez.