Chavez supports nationalization of YPF; offers Venezuela's experience in the matter
Tuesday, April 17th 2012 - 06:58 UTC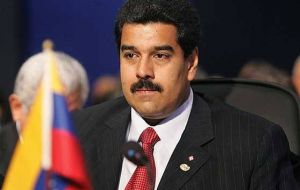 Argentine president Cristina Fernandez received late Monday the first international support for her announced takeover of YPF from the Spanish corporation Repsol: the Venezuelan government and President Hugo Chavez, revealed the Foreign Affairs ministry.
According to the official message from Venezuela posted in the ministry's website: "President Chavez welcomes and supports the decision announced by the government of President Cristina Fernandez to nationalize the main oil corporation of Argentina (Repsol-YPF)"
In Venezuela the message was also read by the Venezuelan Minister of Foreign Affairs Nicolas Maduro on national television.
Further on Chavez rejected the threats and intimidation attempts that from Europe have been launched against Argentina and calls on all sister nations from the continent "to support Argentina's right to exercise its sovereign rights".
The Venezuelan president said that Argentina must reject all the intimidations from Spain. The Spanish government has described President Cristina Fernandez decision as a "hostile action" and has vowed to adopt "clear and strong" measures, while the EU executive European Commission warned that an expropriation would send a very negative signal to investors.
Maduro said that on Monday evening he phoned his peer Hector Timerman to express solidarity and support and also offered the Argentine government put all the technical, operational and legal experience from Venezuela's oil corporation, PDVSA.
Chavez, a close ally of President Cristina Fernandez and her late husband Nestor Kirchner has since 2007 promoted and effectively nationalized all those sectors from the economy described as strategic such as energy, telecommunications and several industries.