India's ambitious project to mine 20bn tons of iron ore in Bolivia at risk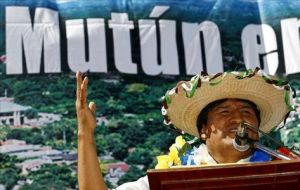 India's Jinda Steel & Power's ambitious Bolivian project to mine 20 billion tons of iron ore is at risk after the Bolivian government encashed yet another 18-million dollars bank guarantee from the Indian firm for not meeting contractual terms.
Jindal Steel Bolivia (JSB) was billed to become the largest foreign direct investment in the Bolivia under President Evo Morales' term. The Bolivian government had, in 2010, encashed a similar amount blaming the company for not meeting its commitments. JSB has sought the intervention of the international court of arbitration.
According to sources close to the development, it could well be the end of the road for the Indian steel maker in Bolivia. "The writing is on the wall. It is hard to see how we can make this relationship work from here", said a company official close to the discussions.
The Indian company has been struggling to hang on to its half of the El Mutun deposit, touted to be among the largest iron ore deposits in the world, that was to be developed into a 10-million-ton per annum mine. Since the mine was located close to the inner border of the landlocked country, it required an expensive network of road, rail and river port infrastructure.
Despite dire statements made by senior ministers in Bolivia, including Morales who threatened to take over the mines, negotiations for subsidised gas for the pellet, steel and power plants had continued till recently. Reports quoting company officials of JSB say work has been suspended since March when it informed the government it couldn't go ahead with plans without a commitment of gas supply.
State-owned gas firm Yacimientos PetrolAferos Fiscales Bolivianos offered 2.5 million standard cubic metres per day (mscmd) against JSB's requirement of 4.5 mscmd required by October 2014 leading up to 10 mscmd by 2017.
Last month, senior officials from the Indian steelmaker said the two sides were discussing possibility of scaling down plans to adjust to reduced gas supply. But developments over the last few days have taken a nasty turn, with yet another annual bank guarantee being executed, and both sides issuing ultimatums.
Jindal Steel had won the 40-year rights to the iron ore deposit in 2007. According to the contract with Bolivia, JSB was to invest 600 million dollars by 2012. The Morales-led Bolivian government has already reworked a more profitable share for state-owned miner in zinc, lead and tin mines that was long operated by Swiss firm Glencore. It has nationalised non-renewable natural resources in 2006.
Increased resource nationalism may not have a big impact on India, say industry experts. With the exception of Jindal's buy, whose terms are not really in public domain, Indian companies have stayed away.
"The cost of developing infrastructure is very high. And the distance from India, makes it difficult to raise finance for a pure market play (without captive purpose) investment. But the primary reason is the opportunities opening up nearer home in the east board of Africa and Australia, where many junior explorers have come to the fore and states such as Queensland and Victoria are also offering new opportunities".