Uruguay's inflation kept climbing in May reaching an annualized 8.06%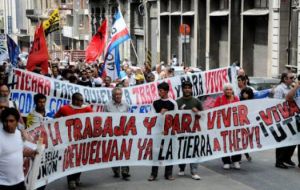 Uruguay's inflation climbed in May to an annualized 8.06% the highest so far this year, according to the Statistics Office release on Tuesday. In May consumer prices were up 0.39% over April accumulating 3.82% in the first five months of the year, which makes the annual target of 4% to 6% hard to achieve.
At the end of the month the Central bank monetary policy committee will have to decide if to lower the basic rate which currently stands at 8.75% to help boost the economy but would at the same time further trigger inflation or increase the rate which could slow economic activity.
Apparently according to public statements from Vice President Danilo Astori, an economist by profession and former Economy minister, the government in coming months will appeal to 'fiscal and salary policies to contain inflation'. This means lesser government spending and implementing more modest salaries' agreements, which will need a strong political consensus.
The items which had the largest influence in May's inflation were Housing (10.17% in the last twelve months), mainly pushed by rents and council taxes; Transport, Clothing and Footwear also influenced.
Transport jumped 7.2% because of higher fuel prices which are administered by the Uruguayan government monopoly and are used to help tame inflation. They were lagging and the government monopoly Ancap was loosing money.
Clothing and Footwear also climbed, 4.27%, as the winter season moves into the southern hemisphere.
At the other end, prices for food and beverage dropped 0.33% in May totalling 7.94% in the last twelve months.
Javier de Haedo a leading economist estimates that prices in Uruguay will begin to yield in coming weeks as "seasonal meat and fuel prices tend to slide" but warned about the "regional and global context" which means Uruguay must "closely monitor competitivity". The economist also recommended a more conservative policy regarding labour long term agreements.
Gabriela Mordecki from the Economics Institute from the School of Economics anticipated inflation will continue to climb until August and then decelerate.
"Inflation this year should be in the range of 7.5%, even when the dollar in the Uruguayan exchange market has been volatile because of events in Brazil and Argentina and the overall uncertainty about the Euro crisis", said Mordecki. "We expect things to calm down towards the end of the year".
Pablo Rosselli from Deloitte said that unless there is a hard landing in Uruguay's economic activity "it's hard to imagine inflation coming down given the current level of salaries and labour cost increases"
He added Euro turbulences could force the Uruguayan Central bank to lower its rate to help competitivity and safeguard growth, "which would be in line with what Brazil is currently implementing"
But this should come with a clear message that salary increases must keep to the inflation target or below, and each sector should manage its performance, "with any additional increases conditioned to the development of the economy next year" underlined Rosselli.
KPMG economist Marcelo Sibille said that the best thing would be for the Central bank to leave the reference rate unchanged and attack inflation by other means.
The salaries' policy needs to be contained and adapted to criteria of productivity to avoid the increase in costs reaching consumer prices, pointed out Sibille.
Uruguay which has been enjoying an unprecedented economic boom since 2004, with strong activity growth rates, nevertheless has been working with tight primary surpluses but insufficient to contain its fiscal deficit.
The current Uruguayan fiscal deficit is running between 1.6% and 2% of GDP, which is enviable in current world circumstances, but not acceptable following almost nine years of interrupted expansion.