Mexico banking regulator says it repeatedly warned HSBC on money laundering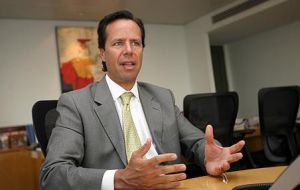 Mexico's banking regulator on Tuesday defended its role in a money laundering scandal engulfing HSBC Holdings Plc, saying it had repeatedly told the bank to improve lax controls over suspect funds passing through its accounts.
The British bank came under fire on Monday when a US Senate report said HSBC ignored risks in doing business in countries such as Mexico, which is rife with drug-trafficking.
Between 2007 and 2008, HSBC's Mexican arm moved 7 billion dollars into the bank's US operations, said the report by the US Senate's Permanent Subcommittee on Investigations.
Both Mexican and US authorities warned HSBC that the amount of money could only have reached such a level if it was tied to illegal proceeds from drug gangs, it added.
Guillermo Babatz, head of Mexico's banking and securities commission (CNBV), said that from 2002 the watchdog had become aware of "weaknesses" in HSBC's anti-laundering controls.
In the following years the CNBV held repeated meetings with HSBC executives from both its Mexican and its international operations, insisting on the "absolute necessity to improve the bank's anti-laundering controls," Babatz said.
"Due to these meetings with these high-ranking officials, above all those in 2008, the bank finally reacted and took very strong measures. The first measure it took was to limit or stop taking dollars from the public," he told Mexican radio.
When asked whether the bank had committed a crime he repeatedly said the fault lay in "administrative errors."
Babatz also noted that Mexican law had prevented the CNBV from making public mention of ongoing investigations.
"It's very important to say that the legal framework in Mexico does not allow the banking and securities commission to comment on cases where sanctions are not fixed," Babatz said. "The only one that can talk about these matters before things become concrete is the bank itself," he added.
Since 2009, HSBC's steps had "markedly" helped to ease the CNBV's concerns over money laundering, Babatz said.
The US Senate report accused the British bank of a "pervasively polluted" culture, underscoring that money-laundering problems have been flagged by regulators for nearly a decade.