Falklands and Latin America affairs responsibility of Minister of State Hugo Swire
Friday, September 7th 2012 - 03:20 UTC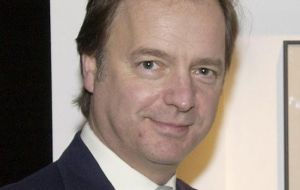 After UK government cabinet reshuffle which confirmed Foreign Secretary William Hague and Secretary of Defence, Philip Hammond, the Falkland Islands and Latin America become the responsibility of Minister of State Hugo Swire MP until now Minister of State for the Northern Ireland Office. The new ministerial teams and their portfolios are as follows.
Secretary of State for Foreign & Commonwealth Affairs: William Hague MP.
Senior Minister of State Hon Baroness Warsi with responsibility over Afghanistan, Pakistan, Bangladesh; Central Asia; Human Rights; UN, International Organisations and ICC and All of FCO business in the Lords
Minister of State for Europe: Hon David Lidington MP: European Union (including Gibraltar and SBAs); Europe, including Balkans, Ukraine, Belarus and Moldova; Russia, South Caucasus; NATO and European Security; OSCE and Council of Europe; FCO relations with Parliament; Communications; FCO Finance; Estates and Security and Information and Technology
Minister of State: Hon Hugo Swire MP: Far East and South East Asia; India and Nepal; Latin America (including: Dominican Republic, Haiti and Cuba); Falklands; Australasia and Pacific; Commonwealth; Migration; Emerging Powers Co-ordination; Public diplomacy, Olympics legacy and the GREAT campaign; International Economy; Prosperity work, including FCO's relations with British Business, in support of Lord Green; Drugs and International Crime.
Parliamentary Under-Secretary of State: Alistair Burt MP : Counter Terrorism; Counter Proliferation; Counter Piracy; North America; Middle East and North Africa; Maldives and Sri Lanka; Defence policy (except NATO and European Security); Human Resources and Diversity; Ministerial correspondence
Parliamentary Under-Secretary of State: Mark Simmonds MP: Africa; Overseas Territories (not Falklands, SBAs or Gibraltar); Conflict Issues; Climate Change; International Energy; Consular; Protocol; Ministerial Oversight for FCO Services; The Caribbean (not including Dominican Republic, Haiti or Cuba)
Minister for Trade and Investment: Lord Green of Hurstpierpoint: Leading on FCO relations with British Business; Commercial Economic Diplomacy Department; Economics Unit; UK Trade and Investment (joint Minister with Dept. for Business, Innovation and Skills); Export Credits Guarantee Department (ECGD); Spokesman for the Government on trade and investment issues in the House of Lords and Business policy
The Defence ministerial team: Secretary of State for Defence - Rt Hon Philip Hammond MP; Minister of State - Rt Hon Andrew Robathan MP; • Minister of State - Rt Hon Mark Francois MP; • Parliamentary Under Secretary of State - Dr Andrew Murrison MP; • Parliamentary Under Secretary of State - Philip Dunne MP and Parliamentary Under Secretary of State - Lord Astor of Hever DL (unpaid)