Uruguay reports lower inflation in March but the first quarter index was 3.59%
Thursday, April 4th 2013 - 07:56 UTC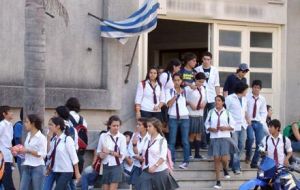 Uruguay consumer prices climbed 0.66% during March totalling 3.59% in the first quarter of the year and 8.54% in the last twelve months, according to a Wednesday release from the National Stats Office, INE.
March's percentage shows a deceleration in the increase of prices following on January's 1.9% and February's 0.9%, even when the annualized index remains above the government's target of 4% to 6%.
In March the item which experienced the highest surge was Education with 1.95%, representing 0.15 points of the total monthly index. In March Uruguayan children return to school and parents face additional spending.
The second fastest item was Food and non alcoholic Beverage with 1.15%. The only item which actually experienced a drop was Transport, with minus 0.07%.
Inflation remains one of the main challenges of the administration of President Jose Mujica, who has pledged to bring down the index, but without affecting the level of activity which is spurred by strong domestic spending and accessible credit.
The budget fiscal deficit in twelve months has increased three-fold to 2.8% of GDP with not many chances of pruning since in 2014 national elections are scheduled.
Nevertheless with the objective of bringing down inflation, at the beginning of March the central bank increased five percentage points the marginal reserves on bank deposits.
And on 22 March the Monetary Policy Committee kept the basic rate at 9.25%, one of the highest in the region and reiterated that inflation remains "one of the main concerns in the risk map of the Uruguayan economy".
In 2012 inflation was 7.48%, and although high was below the 8.6% of 2011.
The Uruguayan government has been manipulating public utility rates (state monopolies) and transport fares to help contain inflation.
Last year during several months power bills were frozen and depending of the consumer savings efforts there was a matching discount from the electricity monopoly.
Likewise an agreement was reached with the main supermarkets to have food basket prices frozen for a couple of months, which effectively helped keep 2012 inflation below two digits, which if reached triggers a round of short term salaries negotiations with the unions, particularly influential under the Broad Front ruling coalition.
However last January 1.9% inflation index was evidence of contained (frozen) prices in previous months and it was later revealed that the government power monopoly (UTE) had lost over 300 million dollars in the last quarter of the year.