Falkland Islands without Thatcher in The New York Times Room for Debate
Thursday, April 11th 2013 - 02:35 UTC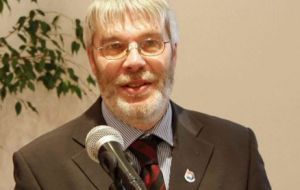 The New York Times has introduced a new section called The Opinion Pages, Room for Debate and this week's theme was "The Falkland Islands without Thatcher". For that purpose it invited six opinions related to the issue.
In its presentation TNT says that last month Falkland Islanders voted overwhelmingly to remain a United Kingdom overseas territory. Meanwhile, Argentine leaders continue to stake claims to the Islands.
Thirty-one years after British Prime Minister Margaret Thatcher made the decision to defend the islands against an Argentine invasion her death leaves a legacy that includes an uncertain future for the Falklands.
Should the archipelago be returned to Argentina? Or could this be another Hong Kong moment for the United Kingdom?
Respect the Islanders' wishes
By Gavin Short (*)
The resolution of the dispute over the Falklands lies in the hands of the Argentine government. Should its leaders behave like a first-world country and admit that they never had a tenable claim on our home, then things could be settled extremely quickly. It would, however, take generations of exemplary behaviour before we Islanders could ever think about trusting them.
On this question, the citizens of the Falkland Islands are the only voices that matter.

Argentine governments have a nasty habit of tearing up treaties on a whim -- like the 1850 Convention of Settlement that Britain and Argentina signed, which acknowledged that there were no outstanding differences between the nations. The Falklands are not mentioned, and I take that to mean that Argentina accepted that it did not have a claim on our home. In fact, Argentina didn't mention the Falklands for about 100 years after that.
If world leaders practice what they say they believe about human rights and self determination, as enshrined in the U.N. constitution, then it can only be the inhabitants of the Falklands who can say what their political future should be, as they did very recently in an internationally observed referendum. Speaking of the U.N.: Its decolonization committee has outlived its usefulness. It has so consistently favored Argentina rather than Britain and Islanders that there is little chance of an unbiased hearing.
The Falklands are our home and our islands. Their future will be our decision. On this question, the citizens of the Falkland Islands are the only voices that matter
(*) Gavin Short is a member of the Legislative Assembly of the Falkland Islands.