Maduro says he is a 'Kirchnerite president' and Venezuela's 'second Peronist president'
Thursday, May 9th 2013 - 05:25 UTC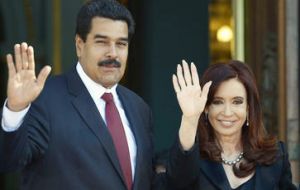 President Nicolas Maduro said he was a 'Kirchnerite president' and the 'second Peronist president' of Venezuela during a political rally with Argentine trade unions and militant groups in a packed Buenos Aires stadium to recall the figures of the deceased Hugo Chavez and Nestor Kirchner.
"We have to thank God for having been part of that crusade of two giants of America, such where Nestor Kirchner and Hugo Chavez", said Maduro at the stadium inviting the crowd to remember "the famous 2005 Americas summit when, had it not been for Kirchner, Lula da Silva and Chavez, we couldn't have resisted the economic colonization pretended with the FTTAA, the Free Trade of the Americas Association".
"It had nothing of free or for the Americas; in the very eyes of the devil himself, George Bush, the FTAA was buried in Mar del Plata, thanks to the efforts of our leaders who came to lay the foundations of a new era", underlined the Venezuelan president.
"I'm calling of the Argentine working class to collect the experience of recovered companies, of a workers government", said Maduro who added that he also was "a Kirchnerite president because of the legacy from Nestor Kirchner".
He also confessed his admiration for Peronism (Argentina's three times populist and nationalistic president Juan Domingo Peron) and pointed out "I am the second Peronist president in Venezuela".
The first obviously was the late Hugo Chavez also a declared admirer of Peron, Peronism and a strong independent Latinamerica.
Maduro early Thursday ended the second stop of his first Mercosur tour since winning the snap election 14 April by a minimum 1.4% of votes, results which have been challenged by the Venezuelan opposition.
On Tuesday he arrived in Uruguay and early Wednesday left for Argentina where a packed agenda was also waiting for him. From Buenos Aires he flies to Brasilia to meet President Dilma Rousseff, the last of his three countries round.
Following the rally Maduro and his 200-strong delegation were honoured with a farewell dinner by President Cristina Fernandez who recalled South American liberators, Simon Bolivar and Jose de San Martin which she emulated with the deceased Hugo Chavez and Nestor Kirchner.
"It's a night full of emotions, full of memories" said the Argentine president adding that "this is a night of future. Our time has come and it is now, we must not delay this march that took off 200 years ago and we must double march, the future is calling us, just as it did with Nestor and Hugo and those who will follow them", said Cristina Fernandez.
The speech was followed by a toast "to the 200 years of history and the men who in these years have known how to confront events of history. Let us toast for our countries".
The Venezuelan leader also praised of Cristina Fernandez saying she is 'much loved and respected by our people'. He added that "we must be proud of living such a historic moment. The memory, the figure of our Commander Hugo Chavez emerges in every corner".
Finally he thanked the San Martin order medal he was awarded and was carrying during the event. "Let's hope as Chavez use to say, that some day we can say we have been able to act and honour San Martin; this is a supreme challenge that demands fatherland"
Earlier in the day President Maduro and his Argentine peer signed twelve bilateral agreements in strategic areas such as energy, agriculture and science at the Government House, where both leaders discussed key topics of the cooperation between two countries.
A statement the Venezuelan leader repeated during the day before the media was that Chávez' "presence" is "very strong" in Argentina and this demands the 'responsibility' of continuing not only with his "legacy" but also with Néstor Kirchner's.
Maduro also insisted with Mercosur which he said must change and become 'a great magnet for the continent'. He is scheduled to return to Montevideo at the end of June for the presidential summit when Mercosur' rotating chair will be passed on to Venezuela for the following six months.
But the Venezuelan leader quick tour has not been uneventful. The challenge to his electoral victory which has been protested by opposition candidate Henrique Capriles was also present in Montevideo and Buenos Aires where small groups took to the streets to complain the fact Maduro had been received as president when the electoral results have been questioned.