Falklands Chilean residents celebrate National Day and strong links with Chile
Wednesday, October 2nd 2013 - 07:25 UTC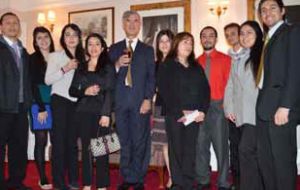 Chilean residents of the Falkland Islands celebrated at Government House in Stanley their national day and the strong connections between the Islands and Chile.
At a reception held on Chilean Independence Day, (September 18), Governor Nigel Haywood hosted Chilean residents of the Falklands recognising the strong role they play in Falkland Islands life.
The links between the islands and Chile were "strong and long lasting", Mr Haywood said, adding that a Chilean consulate had first been established in the Falklands in 1877 and continued well into the last century. The Falklands also have strong commercial and interpersonal links with Chile, particularly Punta Arenas in the south of the country, Mr Haywood said.
Also attending the reception were four Panamanian parliamentarians who were visiting as the guests of the Falkland Islands Government.
According to the last Falklands census, the Chilean community represents on average 6.1% of the Islands population and is the most important behind the UK and St Helena.