Youth gangs raids in Rio beaches are back challenging police; US consulate alert
Friday, November 29th 2013 - 07:17 UTC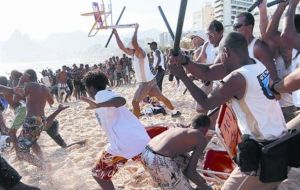 A truck with fourteen cameras with a 360 degree angle and a range of eight kilometers plus a fourfold increase in police numbers has been displayed along Rio do Janeiro most iconic beaches following an outbreak of 'arrastraos' or dragnets in which tens of teenagers stampede on to beachgoers to steal whatever they can get hold off.
The special battalion of militarized police responsible for security in the area has been stationed at Arpoador, a traditional tourist hangout located between Copacabana and Ipanema. To this must be added a mobile police station while the number of special forces on the beat has been increased from 140 to 600 in Copacabana beach, where locals hold their big parties such as on the eve of New Year or recently the Pope with the youth congress.
"We are planning a 'shock of law and order' in Copacabana, Leblon and Arpoador to impede the temptation of new arrastraos", said the city's Citizens Security Secretariat.
During the dragnets dozens of marauding youths descend en masse to the beach snatching bags, watches, jewels and cell-phones, ripping gold chains from necks and setting off sandy stampedes by panicked beachgoers. The youth flee back to the favelas or shanty towns and some dive into the sea in the midst of the chaos.
Such mass beach robberies were once a hair-raisingly frequent occurrence, but they had largely disappeared in recent years as Rio, a reputed notoriously dangerous city, got markedly safer, a trend credited to a strong economy and police operations that wrested control of more than 200 "favela" slums from the drug-dealing gangs that controlled them.
But the "arrastoes" are back, and the gang raids during the November 15/21 week spread alarm through a city gearing up to host soccer's World Cup in just over six months and the Summer Olympics in 2016. An estimated 600.000 tourists are expected next June/July.
So serious was (is) the situation that the US consulate in Rio do Janeiro alerted about the increased incidents of crime in areas frequented by tourists.
"In the past several days, media reports have noted an increased number of crimes, notably mass robberies (arrastões) in which large numbers of teenagers have robbed entire areas of the beach in Leblon, Ipanema, Arpoador, and Copacabana.
"The incidence of crime against tourists is greater in areas surrounding beaches, hotels, bars, nightclubs, and other tourist destinations. Incidents of theft on city buses are also frequent. Crimes are especially prevalent prior to and during holidays such as Carnival (Brazilian Mardi Gras) and Christmas, but also occur throughout the year. The current uptick in crime is likely to continue through December".
The issue has had ample local and international media coverage since the World Cup is only six months away.
"What's happening in Rio today represents a power play," wrote Merval Pereira, a columnist for the Rio's newspaper O Globo."Since the police's pacification program was put into place, the bandits have been losing control over large swaths of the territory in which they used to act and are looking to take back what was theirs."