Catalonia president takes vote on independence case to EU heads of government
Friday, January 3rd 2014 - 06:02 UTC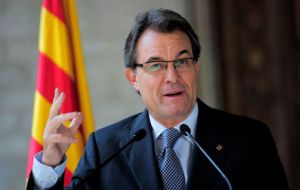 Catalonia's president has called on European Union prime ministers for support as the region seeks a vote on independence in November this year, the source of an increasingly bitter fight with Spain's central government.
In letters dating from December and made public today, Artur Mas urged European powers to encourage a referendum that the centre-right government of Mariano Rajoy says is unconstitutional and it will not allow.
"Contrary to some reports, there are a number of legal and constitutional options which allow this referendum to take place in Catalonia," Mas wrote in a December 20 letter to German Chancellor Angela Merkel, which was reproduced on his official website and is one of 27 sent to European leaders.
"I am confident I can rely on you to encourage the peaceful, democratic, transparent, and European process to which I and a vast majority of the Catalan people are fully committed," he wrote.
With Rajoy and Mas showing no signs of reaching a political negotiation, Rajoy is expected to use the national parliament and Supreme Court to block any move to hold a referendum.
In that case, Mas may well have to call early elections, likely to be won by the more radical independence party the Catalan Republican Left (ERC), opinion polls show. ERC leaders say they will take their battle for a referendum to an international court if need be.