Argentina's YPF wooing Malaysia Petronas to develop shale deposits
Thursday, January 30th 2014 - 06:46 UTC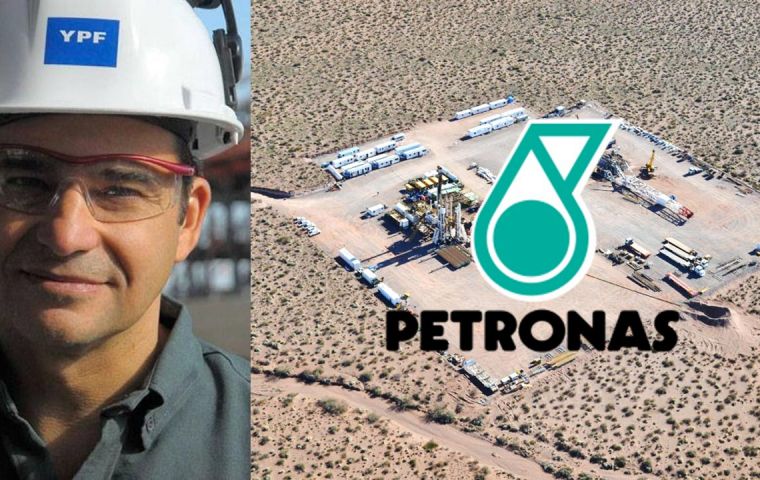 Argentina oil company YPF is courting Malaysia's Petronas as a possible partner to develop the promising Vaca Muerta shale, according to reports. YPF chief executive Miguel Galuccio was in Kuala Lumpur for a meeting on Wednesday with Petronas leader Tan Sri Dato Shamsul Azhar Abbas, the La Nacion newspaper reported.
"We have advanced towards a future deal," Reuters quoted Galuccio as saying in an email from Malaysia after the meeting with his Petronas counterpart.
The visit follows another meeting held in early 2013 as well as visits by Malaysian consultants to Argentina as YPF seeks a deal with the company similar to accords penned with US super-major Chevron and US giant Dow Chemical, La Nacion reported.
Some of Petronas' latest forays into the region have not ended happily: What was to be a 850 million farm-out with Brazil independent OGX for a stake in the Campos basin Tubarao Martelo field collapsed after the company filed for bankruptcy in October.
Petronas also raised its hand to qualify for Brazil's bid round for the giant Libra field but did not walk away with a stake.
The company was also reportedly considering dropping a stake in a major Venezuela heavy-oil project after disagreements with state oil company PDVSA. The Malaysia state oil company is keen on shale, with plans to spend as much as 35 billion dollars to harness Canadian natural gas for liquefied natural gas exports to hungry Asian markets.
The US Energy Information Administration estimates that Argentina has the world's second largest shale gas reserves with 802 trillion cubic feet.