Argentina satisfied "with Chile's renewed support for the Malvinas cause"
Tuesday, May 13th 2014 - 08:29 UTC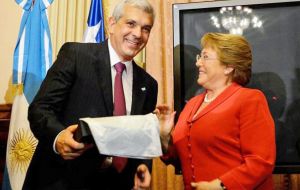 Argentina's president of the Lower House, Julián Domínguez underlined the "renewed Chilean support for the Malvinas Islands cause" during an event on Monday at the Legislative Assembly which received Chilean president Michelle Bachelet in Congress.
"Two hundred years ago San Martin crossed the Andes to join O'Higgins in embracing the independence of the region" said Dominguez, and today with the "Maipù Treaty; Cristina Fernandez and Michelle Bachelet are setting the foundations for the economic sovereignty of our peoples".
The lawmaker said that the "agreement will help advance towards the Pacific ocean outlet which Argentina needs to strengthen its trade relation with Asia", adding that "Argentina, Brazil and Chile are the locomotives of South American development, and given their production potential and strategic geographic location will conduct the advance of all the other brotherly countries".
"The Maipù treaty is a great opportunity for the great north of Argentina, an area far from the traditional Atlantic trade relations, thanks to the economic, land and ports complementation between our north and Chile".
Dominguez added that "the improvement and modernization of these regions could at the same time represent the confluence with the south of Brazil which is an area of great industrial development".
"Our links also extend to the south with its Antarctica projection. We have the challenge to link our social and productive interests in such a manner that they boost growth in the region with the mounting of a greater number of single customs units to overcome the natural obstacle of the Andes cordillera".
In this "Chile's support for Argentina's sovereignty claim over the Malvinas plays a leading role, and as such we will see it develop in the UN and other international organizations".
Finally we need to mount a joint strategy to strengthen supra-national institutions in which both countries participate such as Unasur and Celac, the creation of ad hoc groups to consolidate coincidences in international policy, UN voting, Security Council, international credit organizations and the risk agencies.