Kicillof meets Pollack requests 'stay' injunction to pay bondholders
Tuesday, July 8th 2014 - 08:10 UTC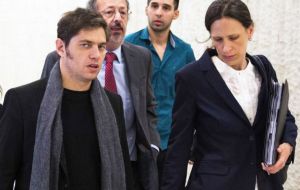 Argentine Economy Minister Axel Kicillof held Monday afternoon a meeting that lasted almost four hours with the Special Master appointed by US Judge Thomas Griesa, Daniel Pollack, and requested that an injunction allowing Argentina to pay bondholders be reinstated while negotiations with holdouts developed.
The meeting, held in the New York offices of Pollack at 245 Park Avenue, lasted for a full three and a half hours, and took place without representatives of the holdout hedge funds also called 'vulture funds' who refused to enter debt restructuring efforts in 2005 and 2010.
According to a Ministry statement, Kicillof "outlined Argentina's position in the legal wrangling with the vulture funds, the origin of the debt titles in discussion (the mega-swap), the causes of the 2001 default and the numerous, effective measures that have been from 2003 to the present day in order to normalize the country's international financial relations."
The communiqué also explains that the minister "made it clear that Griesa's 'pari passu' sentence, as it has been interpreted would be impossible to abide by; that reinstating the stay would be necessary since the case does not only involve the plaintiffs, but also could be extended to all of the bonds which did not enter restructuring; and would complicated payment to bondholders from the 2005 and 2010 swaps."
Kicillof also reiterated Argentina's "will to continue with talks in order to assure fair, equitable and legal conditions, which implies taking into account the interests of 100 percent of bondholders," the statement underlines.
Finance Secretary Pablo López, the Economy Ministry's Legal and Technical Secretary Federico Thea and Deputy Attorney of the Treasury Javier Pargament accompanied the minister.