Petrobras sells natural gas pipeline operations in Bolivia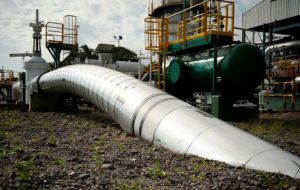 Brazil's Petrobras sold its stake in a Bolivian natural gas pipeline operator, continuing a string of asset sales aimed at generating cash for development of offshore oil fields at home. The Brazilian giant said it sold its 44.5% stake in Transierra to Bolivian state-owned YPFB for 106.7 million dollars.
Transierra operates a pipeline that connects the San Alberto and San Antonio natural gas fields to the Gasbol pipeline, which is the primary path for Petrobras to import about 30 million cubic meters/day of Bolivian gas.
The deal is the latest in a series of asset sales by Petrobras as the company attempts to raise cash for its 221 billion in planned investments through 2018. Petrobras plans to sell 5 billion to 11 billion worth of assets over the next five years to help fund the plan.
The company in July raised 269 million dollars through the sale of its stake in natural gas distribution company Gasmig. Petrobras also is reportedly negotiating the sale of distribution assets in Argentina. Last year, the company sold assets in the US Gulf of Mexico and Africa, but has shelved plans to sell refineries in the US and Japan.
Petrobras is spending heavily to develop offshore oil fields in the subsalt region, where billions of barrels of crude were discovered below 2,000 meters of water and an 5,000 meters of rocks, sand and a shifting layer of salt. Development of the ultra-deepwater projects has proved expensive and complicated.
Development of the subsalt cluster of oil fields is expected to raise Petrobras' crude oil production to 3.2 million b/d by 2018 and 4.2 million b/d by 2020. In 2013. Petrobras produced 2.008 million b/d in June, boosted in part by subsalt output that reached a record 520,000 b/d in early July.
The pipeline deal will not affect production at the San Alberto and San Antonio fields, Petrobras said. The company also said it remains committed to its operations in Bolivia, where Petrobras had some assets nationalized when Bolivian President Evo Morales created YPFB as a state-owned and operated oil company in 2006.