China and Australia seal major free trade agreement after a decade of talks
Tuesday, November 18th 2014 - 06:26 UTC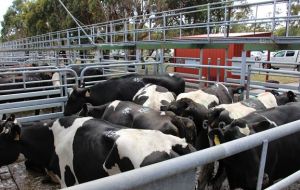 China and Australia have sealed a major free trade agreement, as Chinese President Xi Jinping made a rare address to parliament in Canberra. The deal, the result of a decade of talks, will open up markets worth billions of dollars, Canberra says.
It will give Australian dairy farmers, winemakers and other sectors tariff-free access to the huge Chinese market within a few years. Meanwhile, China is seeking greater access for its investment projects.
President Xi is on a state visit to Australia following the G20 summit. In his speech to parliament, he vowed China would pursue peaceful development with Australia and other nations.
Ministers from China and Australia signed a Declaration of Intent on Monday, however the agreement will be signed in 2015 after the draft is translated and legally reviewed, a statement said.
Australian Prime Minister Tony Abbott described the deal as the first China had concluded "with a substantial economy, with a major economy; and it's the most comprehensive agreement that China has concluded with anyone".
The big winners are seen to be Australia's dairy and beef industries which will see tariffs removed. Parliamentary Secretary Josh Frydenberg said the agreement meant that "up to 95% of our exports over time will enter the Chinese market tariff-free".
In the past two decades, trade between Australia and China has grown substantially, with China now Australia's largest two-way trading partner, according to the Australian Department of Foreign Affairs and Trade.
In 2013, trade between the two countries was worth A$150bn. The government has said the deal could add A$20bn to that figure, however the full details of the benefits are yet to be released.
This is the third FTA signed by Canberra this year, following similar agreements with South Korea and Japan, as Australia looks to increase its exports of food and agricultural products to feed Asia's growing middle class.
However, Australia failed to get a reduction in tariffs on key commodities such as rice, wheat, cotton and sugar.
China was not able to get Australia to change its practice of scrutiny by the foreign investment review board on all investment by state-owned enterprises, which make up most of Chinese investments.
The deal is not without its critics. Last week, Senator Bill Heffernan, a senior member of Australia's Liberal Party, warned that China's refusal to float its currency could give it a big advantage over Australia.
In his comments to parliament, Mr Xi said the agreement would "create a high-level platform and provide better institutional arrangements for our economic co-operation".
Along with pledging deeper co-operation with Australia, Mr Xi also said China was willing to resolve territorial disputes with its neighbors in a peaceful manner.
"The Chinese government is ready to enhance dialogue and co-operation with relevant countries to jointly maintain freedom of navigation and safety of maritime rules," he said.
China is embroiled in territorial disputes in the South China Sea and East China Sea with several countries including Japan, Vietnam and the Philippines. Mr Xi said China would never use force to achieve Beijing's goals.