Argentina and Chile coordinate joint scientific research in South Atlantic
Friday, May 1st 2015 - 05:29 UTC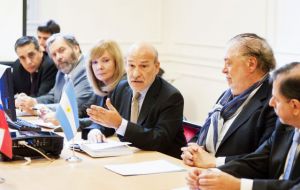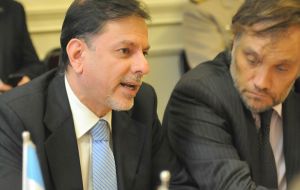 Outstanding researchers and scientists from Argentina and Chile in the fields of marine sciences, fisheries Antarctica and technology innovation met this week in Buenos Aires for a day's work coordinating the scientific efforts of both countries.
According to an official release from Buenos Aires, "The first bi-national meeting on austral marine research, Argentina-Chile" was organized by the ministry of foreign affairs (Palacio San Martín), the Science, Technology and Productive Innovation ministry and the Chilean embassy in Buenos Aires.
The event was attended by Marcelo Diaz Diaz, Chilean ambassador in Argentina and his Argentine counterpart in Santiago, Gines Gonzalez Garcia.
The purpose of the meeting was to design new joint projects referred to marine research, following the assessment of scientific cooperation capacities and joint activities already in process in the south Atlantic and south Pacific.
Projects refer specifically to fisheries, tidal energy, ocean currents and Antarctica cooperation.
During a day full of discussions, "the different speakers outlined the significance of the Blue Pampa initiative launched by Argentine president Cristina Fernandez in April 2014, which is geared to promote technological innovations applicable to a sustained exploitation of natural resources and the development of industries linked to the sea", underlined the official release.
This "with the purpose on strengthening the maritime awareness of the Argentine society and support with scientific research and information, Argentina's presence in the South Atlantic".
Finally to ensure the continuity of these cooperation policies agreed in the Palacio San Martín meeting, a second meeting has been scheduled which will take place in Punta Arenas, extreme south of Chile and seat of the Chilean Antarctic Institute.