Punta Arenas cruise visitors this season totaled 56.383 with 100 calls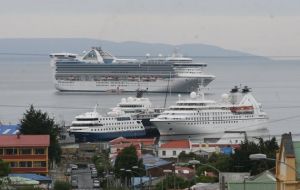 The results of the 2014/2015 cruise season were considered 'positive' for Punta Arenas, in the extreme south of Chile, which received 100 vessel calls, of which 40 international and 60 domestic, totaling 56.383 visitors, a similar number to the previous season.
This number is expected to increase around 20% for the coming 2015/16 season, according to the local Prensa Austral.
The assessment of the last season was done with the participation of Ignacio Covacevich, CEO of the Austral Port Authority; the regional director of Chile's tourism board, Sernatur, Lorena Araya and Christina Von Moltke, responsible for border controls from the Agriculture Sanitary Service, SAG.
Apparently besides the 'positive' consensus about the last season, there was a special mention for the performance of the multilingual Tourist Information Office, which between November last year and April this year, was consulted by 1.900 visitors, mostly foreigners (among which 530 from the US and 300 Germans). Inquiries were related to tours, money exchange houses, gastronomy, shops, call centers, wi-fi access and handcrafts, and no complaints were recorded, 'rather the contrary'.
Ms Araya provided a report on the overall tourist numbers during the current 2014/2015 season referred to arrived tourists to the Magallanes Region, famous not only for Punta Arenas but also for national parks such as Torres del Paine.
"From October to mid April, 789.206 tourists arrived in Magallanes, which is approximately 10% more than the previous season, with another positive aspect, the season tends to extend beyond April/May", said Ms Araya. She added that the number of visitors to protected wildlife areas reached 164.000, which was 10% higher and is also "positive".
Additionally Ms Araya revealed that Sernatur is working to promote pensioners' tourism inflow to the region, for which "we are elaborating a social tourism project, hopefully doubling current numbers in a three-year projection. It's a promising segment".
Finally Von Moltke responsible for agriculture checks at border points and landings said that between October first and 31 March this year, his sanitary department made 15.785 'interceptions', equivalent to 9.012 kilos of regulated produce.
"One of the important aspects of this season's campaign both by port authorities and the information office was to encourage people to declare produce they are bringing with them, and I must admit we are quite pleased since the majority of goods intercepted were voluntary declarations", underlined Von Moltke.