Brazil's central bank leaves interest rate unchanged at 14.25%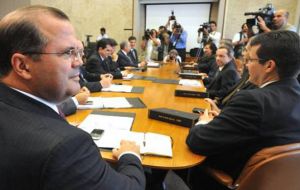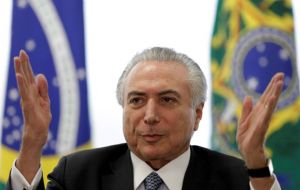 Brazil held interest rates steady for the seventh straight time on Wednesday, resisting pressure to slash borrowing costs amid a recession as inflation remains near double digits. In a unanimous vote, the central bank's monetary policy committee, Copom, decided at its last meeting led by governor Alexandre Tombini to keep its benchmark Selic rate at 14.25%, the highest in nearly a decade.
A deepening recession and lingering political turmoil is renewing pressure on the central bank to start cutting borrowing costs to ease a crisis that has cost nearly 2 million jobs over the last year.
Despite the recession, which could be the worst in the country's history, inflation has remained persistently high due to rising government-controlled prices and a weaker currency.
The central bank exactly repeated its last decision statement, acknowledging it has made some progress in battling a surge in prices, but not enough to prompt policymakers to cut rates now.
Inflation rose to 9.32% in the 12 months through May, above market expectations and the 4.5% center of the official target range, according to official data released earlier on Wednesday.
Interim President Michel Temer, who took over from Dilma Rousseff as she stands trial for allegedly breaking budget laws, has vowed a shift toward more market-friendly policies to rebuild investor confidence in the once-booming economy.
Temer appointed Ilan Goldfajn, a former Wall Street economist, chief economist for Itau Unibanco (Brazil's largest bank), and central bank director, to head the central bank. The nomination of the MIT-trained economist was confirmed by the Senate on Tuesday but he did not participate in the Copom meeting.
Signaling he is in no rush to cut rates, Goldfajn said this week the new government needs to create the conditions for interest rates to fall by closing a yawning fiscal gap that cost Brazil its coveted investment-grade credit rating last year.
Goldfajn also vowed to bring inflation back to 4.5%, the center of its target, and rebuild the pillars of the famous "tripod" policy framework of low inflation, a free-floating exchange rate and fiscal responsibility.
Most private economists, including Goldfajn when he was head of research for lender Itau Unibanco, have projected that the central bank will start cutting rates in the second half of the year as inflation is expected to ease.
However, after a brief drop, inflation expectations have started to rise again after a series of higher-than-expected consumer price index prints. That has prompted many economists to push back forecasts for the start of the rate-cutting cycle until October.