"Gringo" president with pro-business cabinet and limited congressional support takes office in Peru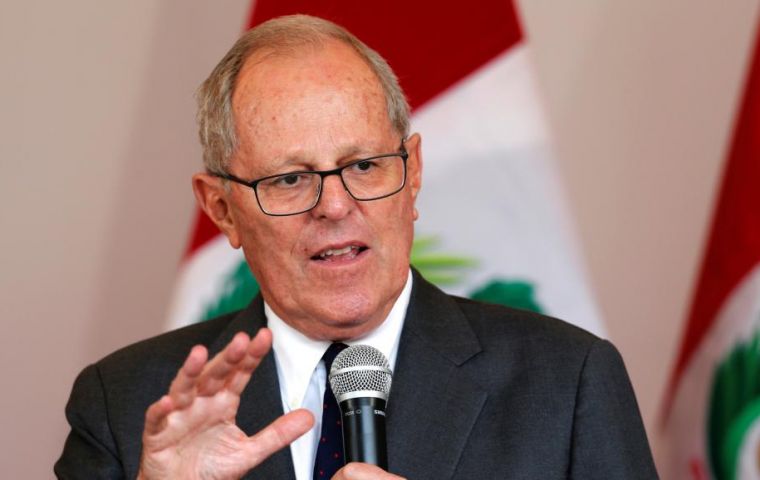 Pedro Pablo Kuczynski takes office as Peru's presidency this Thursday with a Cabinet that shares his Ivy League, pro-business pedigree — a reliance on technocrats that could become a liability as he deals with an unfriendly congress, a resurgent left and environment aware peasants and indigenous peoples living on rich natural resources.
The conservative Kuczynski has economics degrees from Oxford and Princeton and worked for decades on Wall Street and at the World Bank. His Cabinet reflects his preference for brains and the boardroom: It's full of PhDs from foreign universities and former captains of Peruvian industry.
"I can't remember in the country's history such a pro-business Cabinet," said Francisco Durand, who teaches political science at Lima's Catholic University.
But with Peru being a big, hard-to-govern country with deep social divisions, analysts say the lack of political operators could become a problem for Kuczynski as he struggles to reverse an economic slowdown and build support beyond the capital's elite. It doesn't help that Peruvians call him the "gringo," a reference to the U.S. passport and accent he acquired while living abroad.
At 77, Kuczynski will be Peru's oldest president. He was elected in a June runoff by the thinnest of margins, just 41,000 votes over Keiko Fujimori, the daughter of jailed former President Alberto Fujimori. His fledgling party secured just 18 of the 130 seats in congress while the populist Fujimori has a solid majority of 73 lawmakers.
Even Peru's left, which had been in the political wilderness for decades, has a larger bloc in congress. It's likely to flex its newfound muscle after tilting the race in Kuczynski's favor on the eve of the election by staging Peru's largest protests in years to remind Peruvians of the corruption and criminality associated with the older Fujimori's rule, warning that the ills would return with a victory by the jailed strongman's daughter.
Although Kuczynski antagonized Fujimori during the campaign by telling voters she would usher in a "narco state" if elected, he has been conciliatory since and most members of what he calls his "deluxe" Cabinet aren't seen as having political axes to grind. His prime minister, Fernando Zavala, headed the local affiliate of SABMiller while the Oxford-educated economy minister, Alfredo Thorne, worked for decades in finance.
Kuczynski and Fujimori also broadly share a conservative agenda, though with starkly different bases of support: The new president's coming from the foreign-educated elite of Lima, Fujimori's from the countryside where her father is still lionized for taming hyperinflation and a Maoist insurgency during his decade-long rule in the 1990s.
Kucyznski has said his biggest goal, in addition to fighting drug trafficking and crime, will be delivering drinking water and electricity to the roughly 10 million Peruvians who lack such basic services, about a third of the population. He also wants to jumpstart mining investment that has slowed along with the economy as a result of low prices for Peru's copper and gold as well as violent protests from rural communities opposing mines.
A bigger concern may be the reaction of the left if Kuczynski gets too cozy with his former rival. That seems unlikely for now: Fujimori is one of the few politicians who didn't meet with the incoming president during the transition, a sign the wounds from the bitter campaign have yet to heal.
A potential source of tension with the left is Alberto Fujimori's request this month for a presidential pardon. Kuczynski has rejected the idea repeatedly but said he would sign legislation giving older inmates, including the 77-year-old Fujimori, the right to house arrest.
The left is also uneasy over a business-heavy Cabinet so identified with the clubby power circles of Lima. Even Kuczynski's social welfare minister, who will be in charge of protecting the 6 million mostly rural Peruvians living in poverty, hails from Peru's biggest business lobby group.
Kuczynski has tried to dampen concerns about conflict of interests by asking every Cabinet member to resign from any board positions before taking office. But his own business dealings after previous stints in government have also drawn controversy, stoking fears he will put the interests of his corporate friends first.