Falkland Islander voted as Chair of Cruise New Zealand, leading voice of the country's sector
Saturday, August 27th 2016 - 04:40 UTC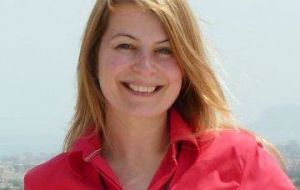 Falkland Islander Debbie Summers was this week voted in as Chair of Cruise New Zealand, the leading voice for the country's cruise sector. Currently Executive Director of ID New Zealand Destination Management, Debbie left the Falklands nine years ago having progressed the Islands' cruise ship industry as Tourism Manager for Sulivan Shipping Ltd.
Debbie was highly influential in terms of encouraging many cruise companies to include the Falklands on their itinerary. Having been turned down for the job of Falkland Islands Tourist Board Manager, Debbie was head-hunted by ID New Zealand and two years ago became the first woman to join the Board of Directors of ID New Zealand.
She told Penguin News that it was a former Chair of Cruise New Zealand who had persuaded her to move to the country. In response to being voted in as Chair by the Committee she said yesterday she was delighted and honoured to have the confidence of the industry.
Within ID New Zealand Debbie is well known for having developed a wealth of vital industry connections at the very highest levels in Europe, the United States, Australia and the UK. She has also expanded NZ shore excursion programmes and ship itineraries and worked closely with tourism operators, hotels and Tourism New Zealand.
Prior to her being voted Chair of the organisation, Debbie had worked closely with Cruise New Zealand for eight years including four years on the Board so said she fully appreciated the critical role the organisation had to play to the overall success of the expanding industry.
She told Members the organisation required strong leadership and that a vote for her would ensure that New Zealand was cemented on as many cruise itineraries as possible with the smoothest path available within New Zealand government policy. (Penguin News)