Almost every agency in the US government's is collaborating with its Argentine counterpart
Friday, September 16th 2016 - 10:02 UTC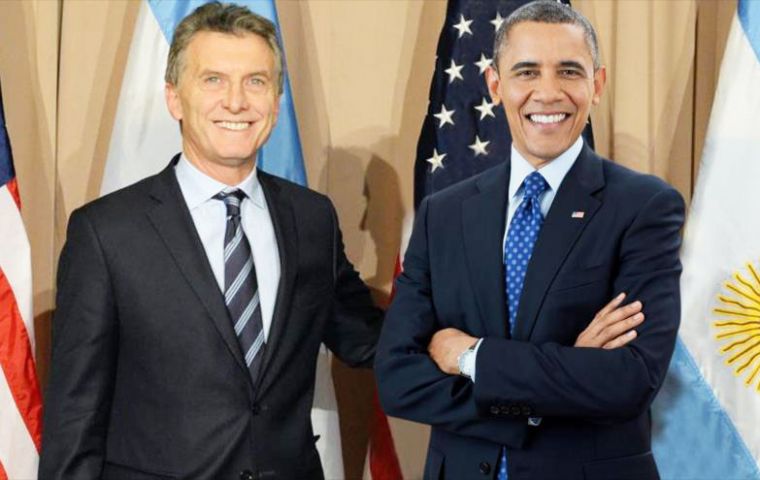 By Noah Mamet (*) - The very close relations between US and Argentina are exposed in this article to celebrate the 140th anniversary of The Buenos Aires Herald
The US Embassy in Argentina congratulates the Buenos Aires Herald on its 140th anniversary! The Herald has a rich legacy as a courageous defender of human rights and protector of press freedom and democracy.
During President Obama's historic visit in March, he paid tribute to the core values and editorial independence of the Herald when he honored the strength and leadership of editor Bob Cox and other journalists during the dictatorship era, "who bravely reported on human rights abuses despite threats to them and their families."
By all accounts, President Obama's visit was a historic success — the first presidential visit to Buenos Aires in nearly 20 years. The visit reaffirmed how much we value Argentina as an important partner in the hemisphere and in the world. It also set into motion a wide range of initiatives and high-level visits to build on our common interests and reach our mutual goals.
Our two leaders agreed to partner on global challenges, such as peacekeeping, refugees, and the defense of human rights and democracy. We've also signed numerous agreements on the economic front to share best practices and to help our economies grow, to promote small businesses, and to support entrepreneurs. Likewise, we are working closely to combat organized crime, fight drug trafficking and strengthen security for all Argentines.
Citing our responsibility to confront the past with honesty and transparency, President Barack Obama announced that the United States would declassify additional documents from the era of military government rule, including, for the first time, law enforcement and intelligence records. Delivering on that promise, Secretary John Kerry last month delivered the first tranche of documents to President Macri, with additional releases to come.
Because of the critical importance of people-to-people connections, our Embassy decided to dramatically expand educational exchanges. Last year, we launched a public-private scholarship program called the "Friends of Fulbright," the first of its kind at any US embassy. We partnered with the private sector to send more than 50 undergraduates to the US for short-term educational and cultural programs. In June, we were thrilled to sign agreements to implement President Macri's commitment to add 1,000 new scholarships for teachers, students and researchers to study in the US.
We are also committed to working together to increase travel and tourism, which immediately benefits both of our economies. Therefore, we recently implemented a Visa Interview Waiver Program for Argentine youth and seniors, making it easier to travel to the US for those under 16 years of age or those 66 years and older. Argentina and Brazil are the only two countries in the world with this unique interview waiver program.
In addition, during Secretary Kerry's visit, we announced another exciting travel benefit for Argentines — future participation in the Global Entry program. This is a Trusted Traveler Program that allows for expedited entry of pre-approved, low-risk travelers. Once implemented, Argentina will be only the ninth country in the world to have this extraordinary privilege of access, the same access US citizens have when entering the US.
We've also partnered together to fight the effects of climate change on our ocean and our environment. On September 1, the Argentine Congress ratified the Paris Climate Change Accord, a huge step in implementing the agreement internationally. Last month, Argentina and the US organized the first ever Bilateral Ocean and Data Management Meeting in Mar del Plata. It successfully brought together over 200 scientists and government officials, 20 of whom traveled from the US, to discuss the impact of climate change and pollution, including plastic trash on marine life and fisheries around the world.
Additionally, Chancellor Susana Malcorra will attend the Our Ocean conference in Washington D.C. next week, the first time Argentina will participate since Secretary Kerry launched the initiative three years ago. The good news is that our governments are focused on solutions, especially clean energy. For example, our embassy here installed the first solar panels at any embassy in Argentina, in addition to the first wind turbine at any embassy in the world.
And finally, the US and Argentina are collaborating more than ever on issues of mutual importance such as humanitarian assistance, disaster response, and peacekeeping operations.
I'm extremely proud of what we've accomplished together so far, and excited about this next year. Almost every agency in the US government is collaborating with its Argentine counterpart, and the US private sector is looking forward to new opportunities for business and investment here as well. As the premier English-language newspaper in Argentina, the Buenos Aires Herald no doubt is picking up new readers here and in my country every day as they seek information and a window into today's dynamic Argentina. The newly revitalized partnership between Argentina and the US is certainly a story worth following.
(*) Noah Mamet is US Ambassador to Argentina