Paraguay: EU election observation mission recommends more transparency in parties financing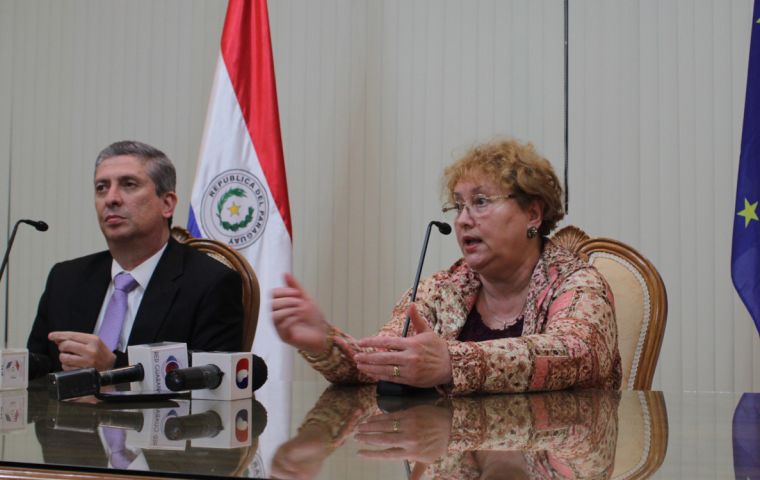 The head of the European Union Election Observation Mission (EOM) in Paraguay, Romanian liberal Euro-deputy Renate Weber, insisted on the need for "complete transparency in the financing of political parties and the election campaign" ahead of the general election next April 22

Weber, who arrived in Asuncion on Sunday, met on Monday with the head of the Superior Electoral Court of Justice (TSJE), Jaime Bestard, to discuss assorted working issues.

"As the EOM, the most important thing is to ensure confidence in the electoral process to citizens. I think that this is also the role of the TSJE, which is to transmit to citizens that they can trust a proper administration of elections," Weber told reporters

Weber has been in Paraguay before as an EU observer in the 2013 elections and as part of a EU visiting electoral mission in 2015, which suggested reforms to the electoral process.

"Some of the recommendations were badly fulfilled ... there was no big electoral reform ... I think that the most important thing we're seeing at this point ... is something that has to do with the financing of political parties and the election campaign," she said.

To achieve transparency Weber urged "giving the TSJE full authority to oversee how that financing is done," providing it with "more financial resources, more human resources."

In addition, she also directed her remarks to the country's political actors, reminding them that "the law obligates them to keep accounts of every penny they spend in any elections."

EU sent its first observer mission to Paraguay in 2013 and concluded that the country suffered from irregularities in – and non-fulfillment of – electoral rules, as well as apparent indications of vote-buying.

In addition, the European team issued a report with 30 recommendations designed to contribute to strengthening future elections in the Mercosur member, including constitutional reforms and stricter application of existing regulations.

Weber on Sunday joined the 24 long-term European observers who have been deployed around the country since March. Those observers will be increased with another 34 short-term observers who will arrive in the country a few days before the vote.

The EU mission, comprised of 90 members, will remain in Paraguay until early May to supervise post-election developments and issue a report on the voting process.

The EOM is deployed in Paraguay in stages at the request of Paraguayan authorities.