Argentina increases export tax on biodiesel to 15% from 8%
Tuesday, May 29th 2018 - 08:06 UTC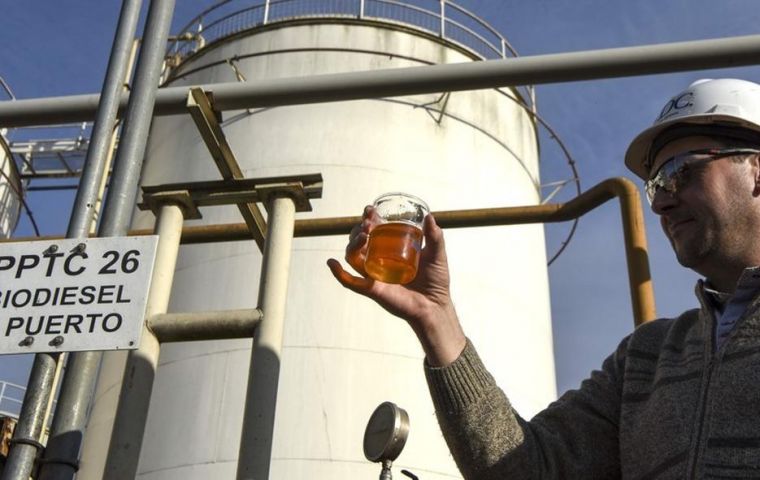 The Argentine government is raising an export tax on biodiesel to 15% from 8%, effective July 1, according to a decree published in the official Gazette on Monday. Argentina is one of the world's top providers of biodiesel fuel, exporting 1.65 million tons in 2017, but it has been hit by retaliatory tariffs in recent years.
The U.S. International Trade Commission has added anti-dumping duties of 60.44% to 276.65% to already steep anti-subsidy duties on imported biodiesel from
Argentina and Indonesia.
The CIARA-CEC exporters' chamber anticipated this month it also expected the European Union to stop importing biodiesel by imposing new tariffs in September or October. The Chamber sees exports falling to around 700,000 tons this year.
The decree, signed by President Mauricio Macri, is meant to "continue fostering convergence" between biodiesel export taxes and soy oil export taxes.
The country is the world's top supplier of soy-oil used for cooking and making biodiesel. Local bio-fuels industry group Carbio declined comment on the new taxes.
When Macri won office on a business-friendly platform in 2015, the soybean export tax stood at 35%. The tax started the year at 30% and is being cut by a half percentage point every month for two years. It currently stands at 27.5% while the tax on soy oil and soy-meal exports stands at 25.5%.
Macri outright eliminated export taxes on corn and wheat soon after his inauguration in December 2015 - a boon for farmers but not for Argentina's fiscal accounts.