Venezuela importing 300.000 bpd of refined products to ease fuel shortage
Thursday, December 6th 2018 - 09:47 UTC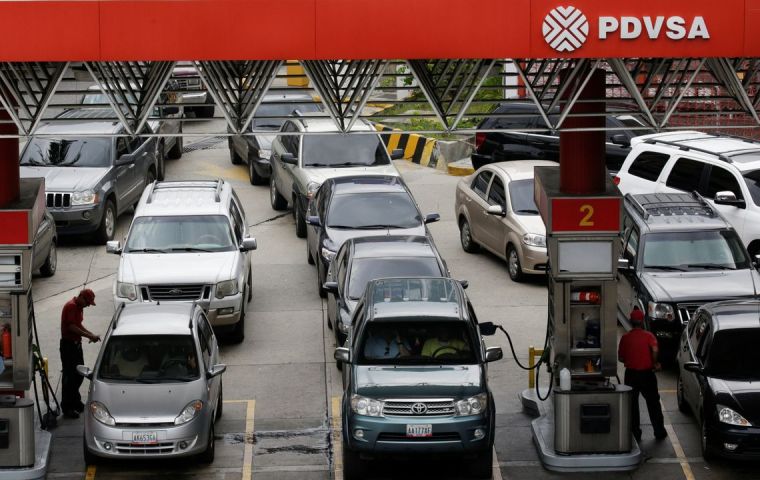 Venezuela this month plans to import over 300,000 barrels per day (bpd) of refined products to ease domestic fuel shortages caused by hobbled refineries and need to prioritize exports, according to internal documents, reports Reuters.
The country with the one of world's largest crude reserves this year has not been able to make enough fuel to meet local demand and fulfill supply contracts with customers, including those under oil-for-loan agreements with Russia and China, the documents showed.
From January through November, state-run oil firm PDVSA bought 19,000 bpd of crude mostly to feed its Isla refinery in Curacao and 234,000 bpd of refined products, including naphtha for diluting its extra heavy oil output, gasoline, diesel for power generation and components to make motor fuel.
The 253,000 bpd of total imports so far this year represent an all-time record and a 40-percent increase compared with the 180,250 bpd bought last year, according to internal PDVSA data.
The purchases, which have expanded despite PDVSA's cash constraints, have been negotiated almost entirely through swaps with fuel providers and traders, which receive Venezuelan crude and residual fuel, according to the data, a PDVSA employee and traders involved in the deals.
"Since February, we have not paid a single imported cargo with cash. We are exchanging the imported fuel for (Venezuelan) asphalt, virgin naphtha, natural gasoline, fuel oil, residual crude, whatever we have," said the PDVSA employee who could not be identified because the information is private.
From January through August, the total value of the cargoes was US$ 3.15 billion. Suppliers included a unit of India's Reliance Industries, PDVSA's U.S. refining arm Citgo Petroleum, Russian oil firms Lukoil and Rosneft, units of China National Petroleum Corp, and several trading firms.
Venezuelan refineries have worked this year at historical low rates with some of them completely halted for weeks due to technical failure, lack of investment, delayed maintenance and insufficient crude supply.
A refinery in Curacao used by PDVSA as auxiliary facility, the 335,000-bpd Isla, has been inactive since the second quarter. Earlier this month, Venezuela's largest refining complex, Paraguana, worked at 19% of its 955,000-bpd capacity, and the smaller Puerto la Cruz refinery was completely halted.
Venezuela's fuel demand has decreased to 325,000 bpd in recent months - half the peak volume registered a decade ago - according to the PDVSA documents, amid a severe economic recession.