Venezuela, Russia sign bilateral cooperation agreements in Moscow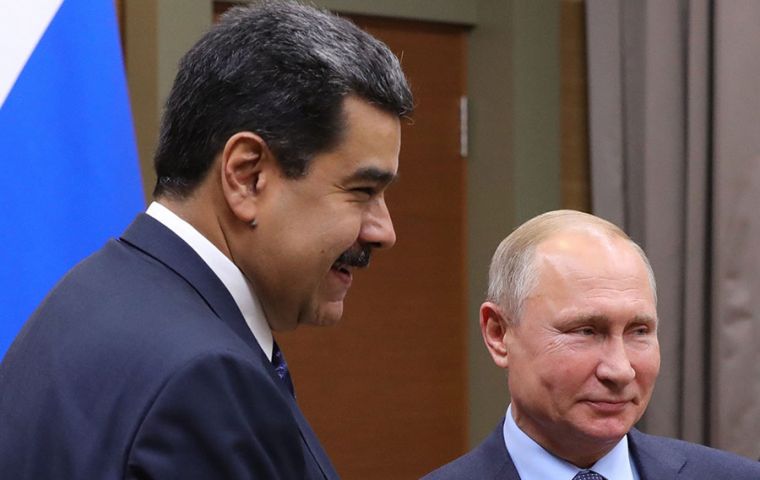 Venezuelan ruler Nicolás Maduro Thursday announced he had signed a series of bilateral agreements during his meeting with Russian President Vladimir Putin in Moscow. The cooperation accords are on mining, oil, telecommunications, weapons and food.

"Today contracts were signed with our Russian partners worth over five billion dollars to increase oil production, and a higher investment of more than one billion dollars for mining production, mainly of gold," Maduro announced."

"The contract was also signed to guarantee 600,000 tons of wheat for the Venezuelan people, [which] guarantees supply for the year 2019 and beyond," he added.

Agreements on assistance, repair and maintenance to the weapons of Venezuela's armed forces were also reached.

An additional treaty provided for the involvement of Russia's Glonass satellite system in strengthening the South American country's telecommunications capacity.

A binational follow-up commission will convene in Moscow y March, 2019 to further develop mutual telations.

Maduro rounded up his work day by posting on Twitter that "At the end of the successful work agenda with our brothers from the Russian Federation, we made a very positive assessment of the welfare of the Venezuelan people. Thank you people of Russia! Thank you President Vladimir Putin!"

But David Morán, a Venezuelan analyst and former vice minister of finance, interviewed by The Miami Herald, said that government often makes grandiose statements that don't amount to much. And Maduro never stated what Venezuela might be offering in return for the investments. "What Maduro says is irrelevant, what's relevant is what he didn't say," Morán explained.