Brazil's corn and soybeans January exports booming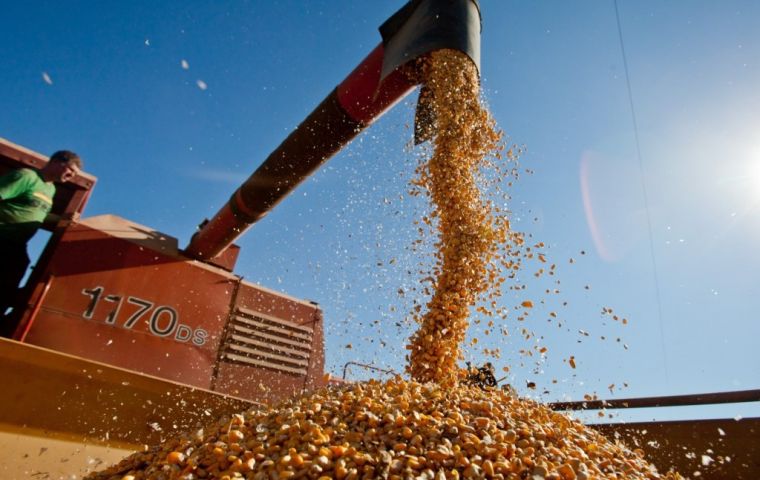 Brazil is poised to export more corn than soybeans for the first time in a year this January, although sales of the oilseed remain high for the period, according to government and shipping data.
Brazil's corn exports normally pick up in the second half of the year, after farmers collect the country's second corn crop that is planted where soybeans had been harvested.
But in 2018 Brazil's exporters increased soy sales in the wake of a record crop and strong appetite from China, which turned to South America for supplies amid a trade war with the United States.
In addition, a drought in 2018 caused corn crop failure, affecting export volumes out of Brazil, the world's second largest corn exporter after the United States.
According to government data, by the third week of January Brazil's corn exports had totaled 2.80 million tons. Based on data from shipping agency Williams, another 740,500 tons are scheduled for shipment through the end of the month. As such, some 3.55 million tons of corn will be shipped abroad compared with a projected 2.5 million tons for soybeans.
"As 2018 was a year in which exporting soybeans was the priority, the window to export corn was pushed back. In fact, it was pushed back more than we thought," said Victor Ikeda, an analyst with Rabobank.
The situation illustrates how the trade war meddles with grain export flows.
In 2017, Brazilian corn exports outpaced those of soybeans between September and December. Thanks to Brazil's abundant second corn crop, the nation has replaced leading Northern Hemisphere exporters in the global corn market, from September to January.
In the first three weeks of January, Brazil's soybean exports were 1.34 million tons, according to the government. Another 1.21 million tons are scheduled for shipment through Jan. 31, Williams data show.
In spite of corn outpacing soy exports in January, the 2.5 million ton projection for the oilseed will mark a record for the first month of the year, according to government data.
Brazil could export between 70 and 71 million tons of soybeans this year, and 30 million tons of corn, according to Rabobank forecasts. Last year, Brazil's soybean exports were about 84 million tons and corn exports reached 23 million tons, lower than in the previous season due to a drought that cut supplies.