Temporary restrictions on Brazilian pork exports to Russia imposed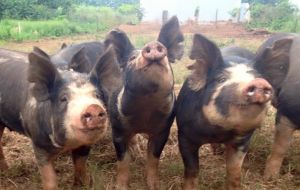 Russia's Federal Veterinary and Phytosanitary Control Service (Rosseljoznadzor) has imposed temporary restrictions from 11 July on the importation of pork products and other animals vulnerable to classical swine fever virus from the State of Piauí, located in the northeast region of Brazil, it was announced.
"Detecting in the territory of Brazil [state of Piauí] foci of classic swine fever, since July 11, temporary restrictions were imposed on the import from the Republic of Brazil to Russia of live animals, vulnerable to classical swine fever (wild and domestic live pigs), genetic pork material (except for those selected in vivo), in accordance with the provision of Article 15.2.13 of the Code of the World Organization for Animal Health [OIE], pork and raw products of pork, wild boar meat," according to Rosseljoznadzor's statement.
Moreover, the restrictions were imposed on pork by-products that did not receive the necessary treatment to guarantee the elimination of the virus, as well as hunting trophies, all kinds of pig food and equipment used for the maintenance, slaughter and cutting of pigs.
Rosseljoznadzor stressed that products that were delivered before May 25 will be received on a regular basis, and those delivered from May 25 to July 11 will be returned or subjected to laboratory tests to detect the presence of the classic swine plague virus.
The Rosseljoznadzor Federal Service for Veterinary and Phytosanitary Surveillance is the federal organ of executive power, carrying out functions on control and supervision in the field of veterinary science. It establishes and lifts phytosanitary quarantine zones , it controls the use of pesticides and agrochemicals, it maintains soil fertility, it is responsible for selection achievements, protection, reproduction and use of objects of animal world (hunting resources) and aquatic biological resources, and it also carries out the functions on protecting the population from animal infectious deseases.