Falklands recalls first loss at Goose Green in May 1982, and the incarceration of local residents by Argentine forces
Friday, May 1st 2020 - 21:41 UTC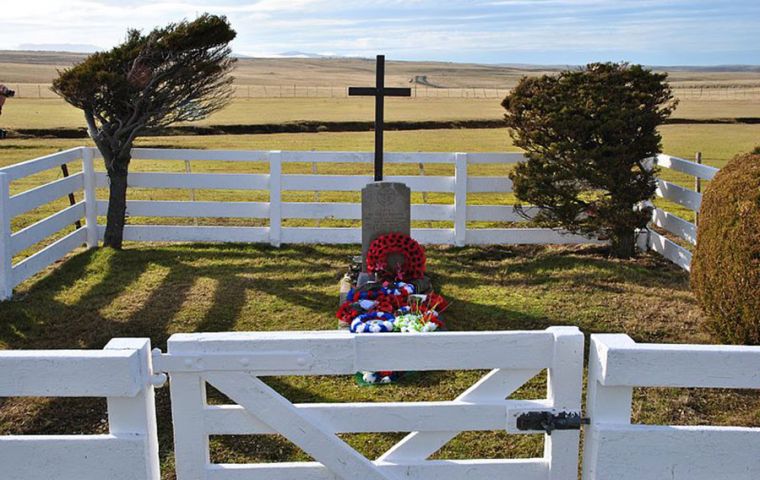 The Falkland Islands are preparing for the commemoration of significant anniversaries of events from the 1982 conflict when Argentine forces invaded the country. The first of these will take place at 2pm on Sunday 3 May, when a short memorial service will be held at Goose Green to mark the death of Lieutenant Nick Taylor.
Lt Taylor, of 800 Naval Air Squadron, HMS Hermes, died on 4 May, 1982 when his aircraft was shot down over Goose Green.
Every year Goose Green residents, many of whom were incarcerated at the settlement hall during the war, gather to pay their respects and participate in the time-honored Act of Remembrance.
This year, due to the COVID-19 situation, the commemoration will follow a different format. Members of the public are asked to respect the settlement's self-isolation policy and not attend.
Governor Nigel Phillips CBE and MLA Mark Pollard will lay wreaths, along with a representative from the Goose Green community. The Reverend Ian Faulds will preside over a short graveside service.
The event will be broadcast by Falklands Radio and FITV and the community's remote participation is welcomed. You may simply wish to tune in, or share your thoughts and pay your respects on social media.
Plans for all other commemorations have been underway for several weeks and are progressing. These will be shared once they are finalized.
It is anticipated that because of the pandemic and social distancing, the community is unlikely to be able to give thanks in the usual way, but these anniversaries are vitally important, and the Falklands will continue to honor those lives lost and the sacrifices made for the freedom of our Islands.