Chile eases lockdown in Santiago as elections loom over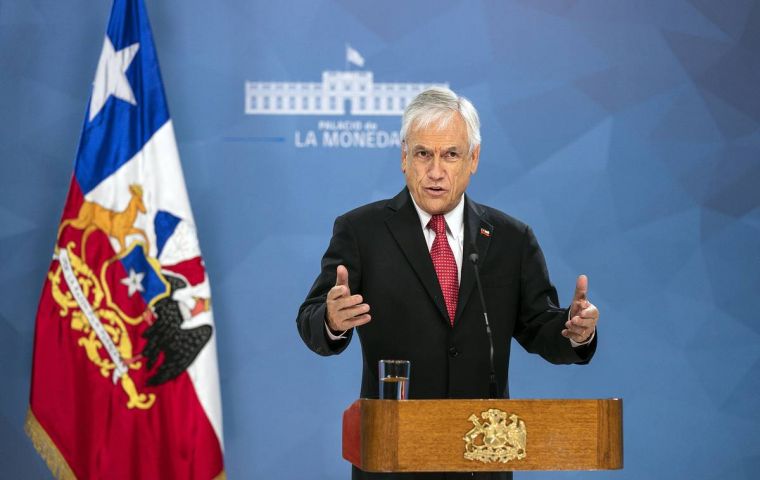 Chile's capital city of Santiago will be freed from its total lockdown as of this coming Thursday, although confinement will still be observed on weekends, health authorities announced Monday.
But curfew on Sunday will be pushed from 9:00 pm to 2:00 am Monday to allow for Chileans to cast their votes in the elections that were already rescheduled to accommodate demands from health experts amid the coronavirus pandemic.
President Sebastián Piñera explained Monday afternoon. from La Moneda that "there will be all the time for people to participate and later return to their homes."
Health Undersecretary Paula Daza also explained the strict quarantine could be lifted due to a decrease in infections by Covid-19. "We have seen that the trend in the last week is that the number of cases has decreased by 7%, and it has decreased by 14% in the last 14 days," she said.

"The other thing we have seen is that Santiago has significantly improved the active search for cases and the transfer of people to health residences. Obviously, there is an issue in positivity, which has been decreasing in recent days and we have to keep going down," she added.
Crime Prevention Undersecretary Katherine Martorell also explained that adjustments to the curfew times were due because in the hours leading to Monday dawn there will be a vote counting going on, which was not the case after Saturday evening. "This is done on Sunday and for this to be done most properly and have enough time it is that the curfew has been set for 02:00 on Monday," Martorell said.
Regarding people who needed to travel to vote, Piñera pointed out permits were to be granted and they would be valid "48 hours before and 48 hours after the elections." He added that those citizens who due to safety and health protection reasons must remain confined will not be granted such a permit."
Chile's Health Ministry Monday reported 5,357 new cases of coronavirus, totaling 1,252,808 infections to date, of which 35,954 remain active, with 100 deaths were confirmed from causes associated with Covid-19 (98 deaths were reported last Monday) in the last 24 hours, bringing the total number of fatalities since the arrival of the pandemic to 27,318 nationwide.
"Without a doubt, these elections are very important because they are going to set the course for our country and society for the next decades," said Piñera.
Chileans will vote on May 15 to elect the Assembly which is to write up a new Constitution to replace the current one drafted under General Augusto Pinochet's military dictatorship.
In his speech, the President assured that his government adopted a "commitment to encourage participation" in going to the polls and that the exercise is "peaceful and safe."
In addition, he highlighted the sanitary conditions that Chile currently has, are in his opinion better than those for the original date of the voting. "Fewer infections, fewer hospitalizations, fewer deaths, more space in our health system, more people vaccinated," he added.