Brazilian airline interested in taking over LATAM Brazil
Saturday, May 29th 2021 - 03:50 UTC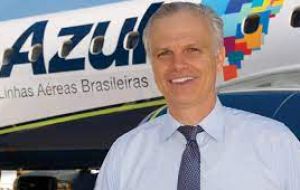 After reporting the cancellation of the code share with LATAM Brazil, and announcing that it was looking for «consolidation opportunities» in the market, air industry sources indicate that Azul Linhas Aéreas is considering making an offer to LATAM Airlines for the Brazilian subsidiary.
As a consequence of the sources Azul's shares rose more than 9% in Sao Paulo on the news, and financial newspaper Valor Economico reported that Azul was in talks with LATAM Brazil's aircraft lessors. In Santiago LATAM's shares plunged 20%.
LATAM filed for Chapter 11 bankruptcy protection a year ago and, while the process allowed it to secure sources of funding, it has yet to submit a formal restructuring plan.
A LATAM spokeswoman said that the airline had not received an offer from Azul, that there were no ongoing conversations, and that LATAM had no intention of selling any of its parts.
Azul, LATAM Brasil and GOL share the Brazilian domestic market, one of the largest in the region in terms of transported passengers and extension.
Azul, controlled by JetBlue Airways Corp founder David Neeleman, said in a securities filing this week that it was ready to lead a wave of consolidation in the Brazilian airline industry, which has been devastated by the COVID-19 pandemic.