Cases of covid-19 in Chile back on the upward trend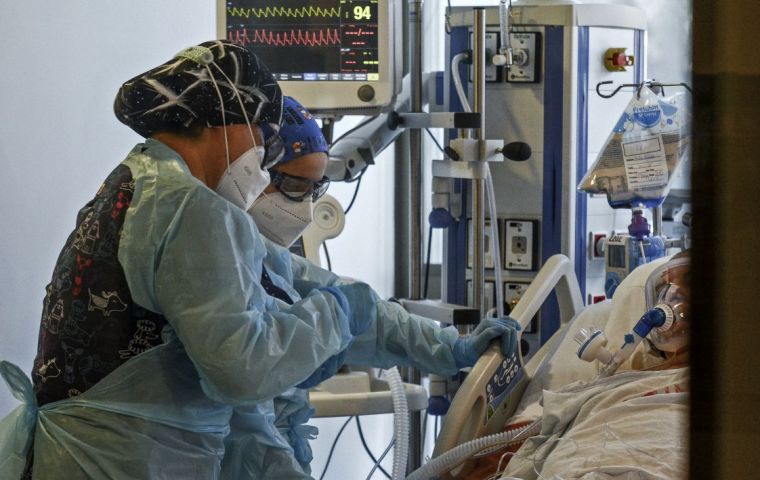 Despite one of the strongest vaccination campaigns worldwide and particularly in South America, Chile has reported Friday several new covid-19 infections in the past 24 hours which would indicate the pandemic is back on the upward trend.
A total of 8,680 new cases have been reported Friday, the second-highest figure since the start of the pandemic after the record of 9,171 infections on April 9. The third highest number was experienced on April 10 and the fourth was just this past Thursday with 8,117 patients.
With more than 10 million have received at least one vaccine dose and 7.8 million with both shots, Chile is still unable to curb the infection rate which is believed to be caused by the high mobility of people following the May 9, Mother's Day celebration in addition to the May 15 and 16 elections.
Warnings by Chilean doctors were not enough to persuade the Government to close shopping malls, where people circulate at large. Authorities have also implemented a "green" pass since Wednesday which allows people with two doses to move freely within communes under strict quarantine.
In Chile, so far, four vaccines have received emergency approval from the Public Health Institute: Pfizer-BioNTech, CoronaVac (made by Sinovac), CanSino's Ad5-nCoV and AstraZeneca-Oxford.
A study released by the government on infections among those vaccinated with two doses of the Chinese Sinovac vaccine – the one with the highest coverage in the country – found that only one person in 416 got Covid-19. The research was carried out over three months and considered almost five million people (4,927,085).
Since February 2, the day mass vaccination began, and on May 1, around 185,000 unvaccinated people caught covid-19 compared to less than 13,000 of those with the immunizer.
The total number of covid-19 cases in Chile has reached 1,361,381, of which 43,793 remain active. The number of fatalities has reached so far 28,928. To date, 3,067 people are hospitalized in Intensive Care Units, of which 2,540 are on mechanical ventilation support.
Despite the growing number of cases, crowds were seen Friday trying to enter the Fantasilandia amusement park in downtown Santiago, which had been closed since March 22 for sanitary reasons.