UN concerned over deportation of 56 Venezuelan migrants from Chile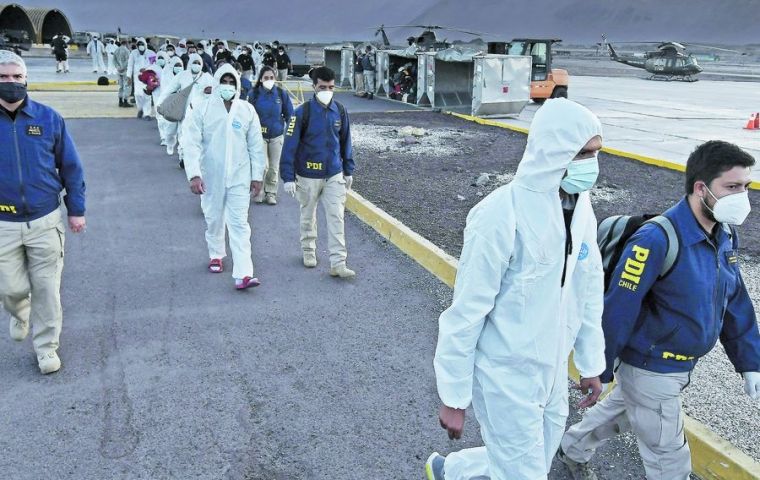 The United Nations (UN) Tuesday voiced their concern about Sunday's deportation of 56 Venezuelan migrants from Chile despite legal actions taken against such a measure.
We express concern about a new process of expulsion of Venezuelan foreigners, which occurred on June 6," said a statement released on Tuesday by the Office for South America of the United Nations High Commissioner for Human Rights (OHCHR). UNHCR, UNICEF and the International Organization for Migration (IOM).
Last Sunday, 56 Venezuelans were expelled and boarded a commercial plane leased by the Chilean government to take them to Caracas.
About twenty of them had been convicted for human trafficking, drug trafficking and robbery with violence, and the rest had entered Chile clandestinely, according to the Interior Ministry.
Some of the Venezuelans had filed court appeals to avoid these deportations and denounced that they were detained and expelled during the weekend when they cannot defend themselves since the Chilean courts are closed.
"By carrying out the expulsion process over the weekend, access to justice for the people who were affected by the measure is limited, considering that several of them were expelled, even though their appeal for protection was still pending resolution," said the UN.
The Chilean justice system has accepted these appeals despite criticism from government authorities, who maintain that the deportations are carried out in accordance with international law and with the knowledge of the Venezuelan authorities.
"We have a different vision: that all those foreigners who want to enter Chile must do so through formal channels, through the authorized steps. They must do so by declaring what they are coming for, hopefully with the new law, with the corresponding visa," said Interior Minister Rodrigo Delgado.
By 2021, Chile has carried out at least three deportations of foreigners, mostly Venezuelans, who entered through clandestine passages through the border with Bolivia. At least five people have died in the area under extreme weather and exposed to gangs of human trafficking.
Although the UN recognizes Chile's right to enforce its borders, migration experts have called on the government to consider suspending deportations or forced returns of migrants, especially amidst the covid-19 crisis.