HMS Queen Elizabeth F-35B crashes in the Mediterranean: UK/US effort to retrieve the aircraft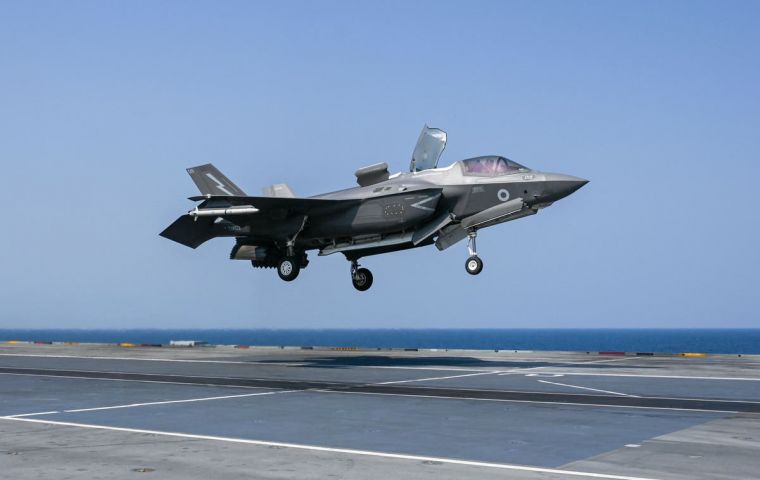 A joint operation is underway, to retrieve the wreck of an F-35B stealth jet after it crashed into the Mediterranean Sea last Wednesday. The US is now working with the UK to locate and retrieve the valuable aircraft - some experts suggesting a race is on with adversaries.
It comes as alongside an ongoing investigation into why the uninjured pilot had to eject shortly after take-off from UK aircraft carrier HMS Queen Elizabeth. The F-35B aircraft is estimated to cost nearly £100 million.
During the joint search, the US-operated Cable-controlled Undersea Recovery Vehicle, or CURV-21, could be crucial.
Capable of operating in 97% of the world's seas, the technology can dive 20,000-feet deep and returning to surface with items weighing up to 2,000 pounds.
Russian submarines and surface vessels frequently use the sea lanes near where the jet crashed, but former Royal Navy commander Tom Sharpe says the chance of another group beating the US and UK to the wreck is "basically zero".
Because of the incident the Prince of Wales' visit to HMS Queen Elizabeth has been cancelled. Prince Charles was due to tour the Queen Elizabeth-class vessel during the final day of his tour of Egypt.
Prince Charles was due to meet Commodore Steve Moorhouse, Commander of the Carrier Strike Group, and Captain Ian Feasey, Commanding Officer of HMS Queen Elizabeth.
The 65,000-ton Royal Navy flagship is returning to the UK from its maiden Carrier Strike Group 21 mission, which included exercises with the Indian military. It was part of the Carrier Strike Group's deployment to the INdo-Pacific amid heightened tensions with China in the region.