Brazil: Henrique Cardoso letter taken as message of support at Lula's camp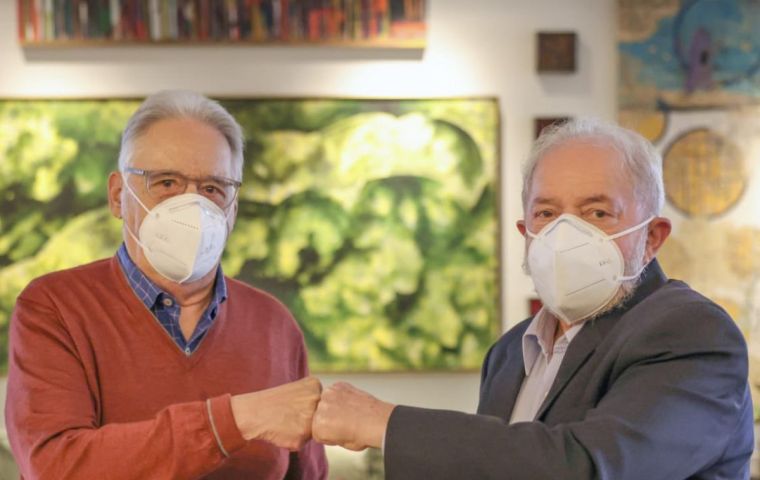 A letter from former President Fernando Henrique Cardoso (FHC) was welcome Thursday in Brazil on the electoral campaign camp of another former head of state, the Workers' Party (PT) leader Luiz Inácio Lula Da Silva, who remains on top of the voting intention list among all credible pollsters to defeat the incumbent Jair Bolsonaro next month.
FHC spoke in favor of equality and democratic institutions: "I ask voters to vote for whoever is committed to fighting poverty and inequality, who defends equal rights for all, regardless of race, gender and sexual orientation," wrote Cardoso, of the Brazilian Social Democracy Party (PSDB, center).
Aloysio Mercadante, from Lula's campaign team, said Cardoso's statement was "very welcome" as well as any manifestation that supports "civilization" values. "For the good man, half a word is enough," said Mercadante, who found FHC's note as supporting Lula's bid.
Although Cardoso did not explicitly mention Lula by name, PT leader, Rui Falcao, pointed out that his letter as a whole was in line with Lula's background. Both Mercadante and Falcao agreed that Cardoso's document strengthened the idea that Lula was not only the candidate of the left but that of a "broad front" made up of various political forces, as the PT seeks to lure voters who are not leftists.
Many polls say Lula would clinch victory in the Oct. 2 first round without needing a runoff.
Lula and Cardoso were bitter adversaries until a reconciliation meeting in 2021 some differences persisted. FHC has told O Globo that he was yet to decide for whom to vote but admitted he would never choose the former Army captain Bolsonaro. More than 20 years ago, then-Congressman Bolsonaro declared that the military dictatorship should have shot Professor Cardoso, who was an opponent of the de facto regime. Four years ago Bolsonaro was questioned about those statements and showed no intention of recanting.