Lawmakers from Uruguay's ruling coalition to visit the Falklands; opposition rejects embassy invitation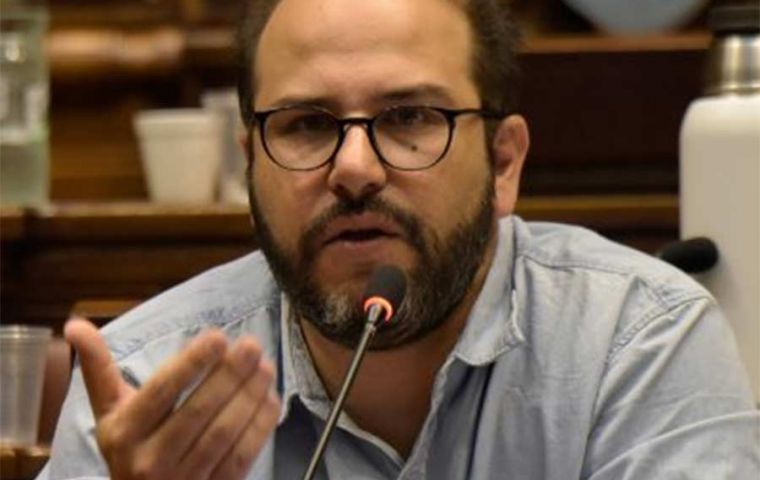 Uruguayan opposition rejected an annual invitation from the UK embassy in Montevideo for lawmakers from all political parties represented in Parliament, to visit the Falklands/Malvinas Islands. The ruling coalition in Uruguay, made up of five parties accepted the invitation.
A representative from the opposition, Sebasitán Valdomir argued that the Broad Front can't accept an invitation which involves "a territory currently under dispute between Argentina, a close friend of Uruguay, where thousands of Uruguayans live and an important trade partner of Uruguay".
Valdomir added "it's a bad signal, since the sovereignty of that territory corresponds to Argentina". He added "we acknowledge there is a dispute between Argentina and the United Kingdom over the Falklands/Malvinas sovereignty which must be solved through dialogue and in accordance with bilateral negotiations, but this is something which the UK rejects".
Lawmaker Valdomir belongs to the group led by ex President Jose Mujica. The opposition Broad Front, as most Uruguayan political parties is undergoing a generational renewal: the leaders who were successful in ensuring fifteen years of Broad Front government have either died (ex president Tabare Vazquez) or have stepped down (ex Finance minister and ex Vice President Danilo Astori).
This has meant that both the ruling coalition and particularly the Broad Front are in turmoil with much infighting for the leadership of the different groups. The fact is that those who accepted the visit invitation to the Falklands are not relevant figures from the ruling coalition while records show that when previous invitations, in effect representatives from all parties either in the ruling or opposition coalitions did travel to the Falklands/Malvinas and this includes the Broad Front.
However this has not impeded Mujica's grouping from rejecting the invitation, "a bad signal" when in the midst of a sovereignty conflict. Lawmaker Valdomir insisted, " As an anti imperialist political force we do not agree with the existence of colonies anywhere in the world and more specifically in our region". He added it would be hard to accept an invitation to a territory whose sovereignty is questioned by "a neighboring and brotherly country".
Speaking for those members of the ruling coalition who accepted the invitation "to learn about reality in the Malvinas Islands", lawmaker Schipani recalled that "the visit invitation is an annual event, accepted by all political parties in previous occasions since under no circumstances does it mean acknowledging British sovereignty over the Falklands/Malvinas".