South Africa in naval drills with BRICS associates, Russia and China; Argentina waiting to join the block
Wednesday, February 1st 2023 - 10:59 UTC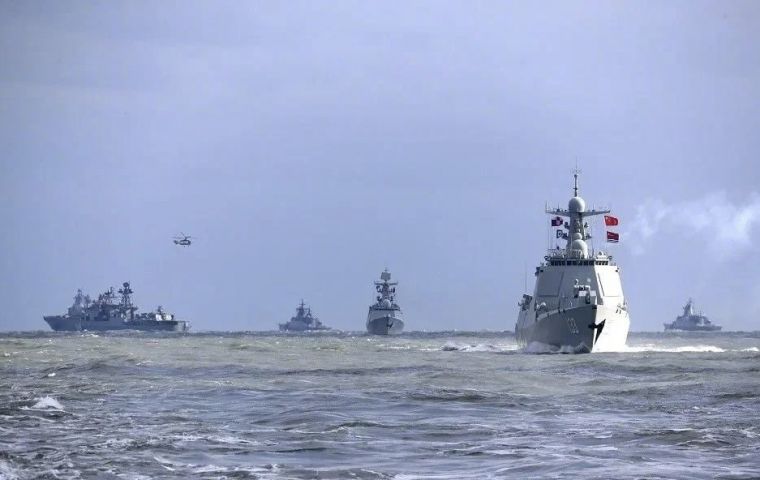 South Africa confirmed plans to conduct joint naval drills with BRICS associates navies, Russia and China off its coast this month, from 17/27 February, next to the first anniversary of Russia's invasion of Ukraine on February 24.
The exercises are expected to bring more focus on the strengthening relationships between the Asian countries with South Africa, the leading voice on the African continent and one of several African countries that abstained in a United Nations vote last year deploring Russia's invasion.
The multinational naval exercise, called "Operation Mosi," which means smoke in Tswana — one of 11 official languages in South Africa – will be held during the last two weeks of February, off South Africa's east coast near the cities of Durban and Richards Bay.
The South African government had refused to condemn Russia's aggression in Ukraine last year, saying it has a neutral stance over Ukraine and calling for dialogue and diplomacy. However, the upcoming naval drills have led the main opposition party to blame government for siding with Russia.
"This gives the impression of not being neutral but being biased to one side. It can alienate us from other important trade partners, the West," said Kobus Marais, the shadow defense minister for the Democratic Alliance. "This is in the best interests of Russia," Marais said, calling it "another bad judgment, an embarrassment."
Notably, the announcement of naval drills came ahead of Russian Foreign Minister Sergey Lavrov's visit to South Africa to hold talks with his counterpart Naledi Pandor, who vigorously defended the country's decision to join Russia and China in exercises.
"All countries conduct military exercises with friends worldwide, so there should be no compulsion on any country that they should not conduct them with any other partner. It's part of a natural course of relationships between countries," Pandor said in a joint media briefing alongside her visiting Russian counterpart Sergey Lavrov.
She said African nations needed to resist being held to a double standard by other countries that say "what I do is ok for me, but you can't do it because you are a developing country, or you are Africa." She added "that is an abuse of international practice."
The South African National Defense Forces (SANDF) said in a statement that "as a means to strengthen the already flourishing relations between South Africa, Russia and China, a multinational maritime exercise between these three countries will take place in Durban and Richards Bay in KwaZulu-Natal province from 17-27 February,"
The training will also coincide with South Africa's Armed Forces Day celebrations which will be held in Richards Bay.
South Africa, a member of the BRICS group of nations along with Russia, Brazil, India and China, has taken a neutral stance on the Ukraine war, drawing criticism from some Western countries. It has also abstained from voting on the issue at the UN.
South African President Cyril Ramaphosa, shortly after the 2019 Russia-Africa summit in Sochi, said that investments from Russia and China in the African continent are a change from the extractive and exploitative colonial powers of the West.
Last year, during the 14th summit of the BRICS block, President Ramaphosa said that in 2021, 17% of South Africa's exports went to BRICS countries and that over 29% of total imports also came from them.
"These countries are therefore significant trading partners, and the value of this trade is continuing to grow… Total South African trade with other BRICS countries reached R702 billion in 2021, up from R487bn in 2017," he said.
As of present, BRICS-member countries collectively represent about 26% of the world's geographic area and are home to 2.88 billion people, about 42% of the world's population. This year, under the chairmanship of South Africa, the block will consider adding more members who have applied for membership and expressed interest in joining.
Algeria, Argentina, and Iran have already applied to join BRICS, while Saudi Arabia, Turkey, and Egypt have announced their interest in becoming the block's members.